Learn More About yogaoutlet.com

YogaOutlet.com is the first specialized multi-branded online yoga retailer, offering a wide collection of yoga products by different brands. The store was founded in 2012 and their operations are based in Campbell, CA where they are headquartered. The store's parent company has decades of experience in e-commerce infrastructure and with that have led them to the right path and direction. YogaOutlet.com is committed to provide industry-leading shipping capabilities and superior customer service to help outfit and equip yoga-enthusiasts throughout the evolution of their practice on and off the mat. The store has received widespread recognition on the internet, with the site being named in Internet Retailer's prestigious Hot 100 List in 2015.
The store offers a large category of products, the best thing being about them being the fact that they are always available in stock, ready t be shipped on demand. Some of their offerings include:Tanks, Tees, Sports Bras, Capris, Pants, Shorts, Jackets &Coverups, Shirts, Shorts, Pants, Jackets and Hoodies. This is not all and they offer yoga equipment as well to make your experience a desirable one, these include:Yoga Mats,Mat Cleaners,Yoga Towels,Yoga Blocks,Yoga Straps,Bolsters,Eye Pillows,Sandbags,Therapy Balls,Fitness Accessories,Yoga Chairs, Yoga Blankets.
YogaOutlet's online portal is an excellent implementation of an e-commerce site, where you get to shop products with a very pleasurable experience. The store is not only beautiful designed but is made to be user friendly as well keeping all ergonomics in mind, providing a premium experience while you shop with them. Their operational and procedural policies are flexible and user friendly as well just like the user experience they provide and unlike many other web sites which charge high shipping fees and increase them further as your order value goes up, they offer a flat $4.99 Standard shipping rate. If you spend over $49, your order ships for FREE via Standard 2-6 business day shipping. If you spend over $99, your order ships FREE via Rush 1-2 Day shipping. In addition, they offer a 3% credit on your order if your merchandise total is over $99 and you opt for Standard delivery! However, additional charges may apply for specialty items shipped direct from the manufacturer.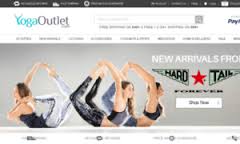 The store wants you to be fully satisfied with your purchase and for that will gladly accept returns on eligible itemsin new and unused condition. It must be ensured that the tags are intact and packaging is included within 60 days of the order shipment date for a full refund or store credit at your discretion.
You can also opt to receive store credit for your return, and for that, they will provide you with complimentary standard (2-6 business day) shipping on your next order with them.For now, the store only ships to addresses within the continental United States, Hawaii, Alaska & US Territories. Orders are delivered via FedEx or USPS, depending on package size, weight and delivery location. The store takes 24 hours to process orders and shipping duration starts only after processing is finished. They recommend you to opt for standard shipping only if your shipping address has a PO Box number. Large, heavy, direct from the manufacturer, or custom items do not qualify towards free upgraded shipping and may require additional time for delivery.
YogaOutletoffers phone support 24 hours a day, seven days a week and Live Chat support is available Monday - Friday from 6AM - Midnight PST and Saturday - Sunday 8AM - 5PM PST. Simply send them an email through the email client on their Contact Us page and they will answer it within 24 hours. The store has gone miles to achieve the level of customer satisfaction they are famous for and that has been the basis of their success. For more information, visit our official websitewww.yogaoutlet.com