Learn More About yesstyle.com
YesStyle is the first Asian online retailer to globally ship a wide range of fashion, beauty and lifestyle products through their web-store. Every year, the store brings customers the latest trends along with thousands of items from brands across Asia from countries like Japan, China, Korea, Malaysia and as far as India. YesStyle.com now represents the best platform for brands in Asia to connect with customers worldwide and serve them with their top of the line services. Their mission is to provide customers with an exciting shopping experience, superior service and a fine selection of affordable, high quality fashion, beauty and lifestyle products. The store launched in 2006 and has found success basing their operations on the model set by their parent company YesAsia.com, a proven e-commerce platform, to deliver customers an exciting and unique destination for fashion, beauty and lifestyle products. The store is designed beautifully and is very user friendly, with just a few clicks or swipes, shoppers can arrange for a wide variety of items to be delivered straight to their doorsteps. Their sister websites yestyle.com.au, yesstyle.co.uk, yesstyle.ca and yesstyle.com.hk bring even more specialized services to YesStyle customers in key regions.
The store is known for their excellent choice and selection making only the best products available to their customers, all of their collection is offered at affordable rates which are one of the lowest on the market, from their wide range of products, customers should be able to find fashion, beauty and lifestyle items that best fit their personal needs. Their experienced and dedicated customer service team ensures that customers enjoy a hassle-free shopping experience while shopping with them. Their customer service team pledges to provide superior support before, during, and even after the shopping process, and they try to deliver the highest possible customer satisfaction.
Their online site is more than a store and provides fashion enthusiast a platform to interact and discuss ideas. Customers looking to do more than just shop can visit YesStyle's fashion blog,"The YesStylist", which features articles from their in-house fashion gurus. Their periodic Q&A feature, "Ask Nikki", provides a place for YesStyle's customers to get answers to their personal style questions. The platform is an ideal place for all lovers of fashions to pursue their interests.
The store offers fashion products and accessories of all types, currently their selection of products feature: women's fashion, men's fashion, lifestyle, shoes, bags, accessories, jewelry and beauty products. In the future, we expect to further expand their product selection to more lifestyle accessories, helping their customer life a fashionable and comfortable life. They take pride in thier lineup of brands that offer the latest in fashion and lifestyle products from Korea, Japan, Hong Kong, Taiwan and more. Their merchandisers emphasize quality, value and affordability when selecting brands to offer to customers worldwide.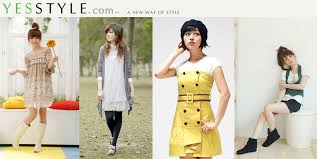 The store serving international audiences has made sure to adopt operational policies that are both friendly and flexible to accommodate customers form all regions ad countries, they accept allmajor international credit cards including Visa, MasterCard, American Express, and JCB. YesStyle guarantees that your online transaction will be secure and that your credit information will be protected. All transactions are charged when the order is approved for processing and before it is shipped out and they guarantee that you will not be billed for any additional charges not associated with the order.
For such a store, an efficient delivery system is very essential and YesStyle are well coveredin that department as well, for deliveries to the United States, they use FedEx and DHL courier services. Orders that are not eligible for shipping via FedEx or DHL will be shipped via EMS (Express Mail Service), an international express service offered by over 140 postal services worldwide. The return policy is also fair and just, returns are handled I for of refunds or exchanges and after understanding your options, you may request a Return Merchandise Authorization (RMA) if you submit your request within the allowed time period. The store working on the guidelines and rules set by the parent company has found great success and is considered as one of the most successful stores on the internet.