Learn More About xelha.com

Xel-Ha was the name given by ancient Mayas to this wonderful site located in the heart of Riviera Maya in Mexico. It is a natural paradise for all and is perfect family attraction. In pre-Hispanic times this place served as an inner port and trading center. Pilgrims visited this place and it was also used by sailors as place of shelter. It is said that Mayan Gods together built up this place where natural beauty was in abundance and named this place Xel-Ha which means "where water is born." To take care of nature and its elements God appointed three guardians who still guard the park and its visitors. These three guardians are the Iguana, the guardian of land, the Pelican, the guardian of air and the Parrotfish, the guardian of water. This tropical park is ideal for swimming and snorkeling as the water is abundant with colorful fishes and other marine life. You can discover the park either by walking into the arms of the natural beauty or by riding a bicycle and taking advantage of riding in tropical forest or on the mini train and enjoying the beauty of flora and fauna present in great extent. The park also inhibits four restaurants where you can enjoy sumptuous meals in the middle of natural habitat. You can also enjoy and have fun by having drinks available at the bar throughout the day. The park is powered with Wi-Fi and has various stores offering souvenirs and other attractive products. They also provide lockers to keep your bags safe and you can pick gears for snorkeling from any of their modules present in the park.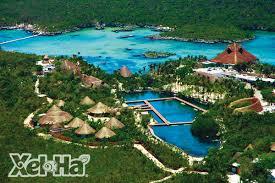 Xel-Ha offers a large number of tourist attractions. You can unfold underwater mysteries through snorkeling and get a chance to explore new variants of aquatic life. If snorkeling doesn't excite you then you can go for a tour of the river in an inner tube and simply flow with the clear and refreshing waters. Explore calmness and peace at Xel-Ha caves which leaves you enthralled with its enigmatic experience. the park also include a 5 meter high cliff and you can enjoy the splash in refreshing water by jumping off from the cliff and letting your body and mind lose all its worries. Get adventurous by having fun crossing the river through ropes and zip-lines across the river. Xel-Ha provides many secretive places where you can relax in peace away from the hustle and bustle of life. It is also home to unforgettable beauty of mangroves and one can enjoy walking through the jungle exploring wildlife and different species of plants. The place is ideal for children too as they offer a special are where children can discover nature in their own way. They can have fun in water while parents can enjoy their time relaxing on hammocks located near to children's area. Xel-Ha is home to two cenotes which are rich in diverse ecosystem. In all Xel-Ha is a great place to get acquainted with nature and perfect for taking a break from stress and anxiety of city life. Get closer to life by getting closer to nature at Xel-Ha.