Learn More About worldsim.com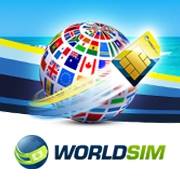 United Kingdom based WorldSIM is the leading provider of International SIM cards, travel essentials and accessories, portable Wi-Fi services, business travel gadgets and data roaming as well as roaming solutions for businesses. The company has endeavored tirelessly to offer best of the products, accessories and services to its customers across the globe. This has enabled them in garnering respect, recognition and awards including the eCommerce Awards 2013 for the best telecom provider, Business Travel Show award for Best Traveler Services in 2009 and Mobile News Awards for Best UK MVNO in 2010 among others.
If you travel to foreign countries for business, education or holiday purpose on a frequent basis, then you must own and invest in an International SIM card offered by WorldSIM. The WorldSIM cards offer a host of benefits such as free of cost incoming calls, network coverage and connectivity in more than hundred and ninety countries, low cost calls, SMS and data advantage, roaming using the existing number via WorldSIMs Virtual Number service. International SIM cards from WorldSIM are also excellent for individuals who wish to reduce their roaming expenses by around eighty five percent. Additionally, users can get a UK as well as U.S. phone numbers on one international SIM card and can also select numbers from more than forty five nations.
Apart from the international SIM card, WorldSIM also provides their customers with Pre-paid travel SIM cards. These SIM cards can be easily recharged anywhere, anytime. Users are also offered online billing services and can access WorldSIM's 24x7 customer service facility. Hence, individuals who opt for the Pre-paid travel SIM card pay only for the SIM card as well as the texts, data and calls made by them. Besides, unlike the other SIM cards, which are valid only for a period of ninety days, the WorldSIM Pre-paid travel SIM card remains valid for a full year (i.e. 365 days). Users also don't need to do any top up recharge. With WorldSIM's Virtual Number service, users can roam on their existing or regular phone numbers. Using the Virtual Number service, individuals can add innumerable local phone numbers to their WorldSIM international SIM cards and receive as well as make calls to local numbers in more than forty five countries.

In addition to this, WorldSIM also offers a gamut of travel essential products and accessories to their consumers. These products have been specifically designed to make travelling quick and hassle-free for travelers in all parts of the globe. For instance, the company offers products like smart watches, wireless pocket router, phones, tablets, travel accessories, action cameras and International SIM cards. These products are competitively priced and allow users to keep in touch with the important people in their families, offices, groups and elsewhere.
WorldSIM also offers businesses and individuals with a unique opportunity to partner with them. Currently, the company has more than 4000 telecom and travel partners across the globe including airlines, travel insurance organizations, phone resellers, hotels, agents and tour operators among others. WorldSIM partners not only enjoy exciting commissions by placing bulk orders for SIM cards but also receive full support from the company at branding, promotion and marketing levels.