Expiring World Nomads Promo Codes . Good luck!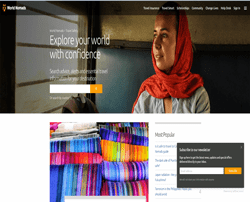 Visit worldnomads.com
Related Categories
World Nomads website view
World Nomads offers travel insurance that covers over 140 countries and ensures things such as overses medical, evacuation, baggage, and 24/7 emergency support. Through their site you can even extend and claim online while traveling. They are recommended by Lonely Planet, Let's Go, HostelWorld.com, Footprint Travel Guides, and more than 400,000 followers on Google+. They offer a wide selection of information on their site, such as survival guides and what you need to now before going to other countries, they let you know about unrest in the area, and are on hand if you have questions. Pop over to their "Ask a Nomad" area to tap into the wealth of 55,000+ travelers to find out answers to your questions. You can also download the Apple App "Ask a Nomad" to pick other travelers' minds while you are out and about. They also offer a way to contribute to the communities people travel to, such as blindness prevention in Bangladesh.