Learn More About westportbigandtall.com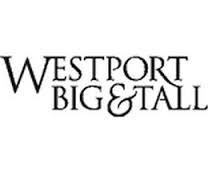 A tall, big man is always a sight to behold. Blessed with good genes, everyone envies a man like that. But tall men also have unique problems – their wardrobe can get very limited because of lack of clothes that fit their larger frame than the rest of the population. Not all stores or brands have the stuff they like that fits either. But tall men shouldn't worry anymore, Westport Big & Tall is here to help them.
Westport Big and Tall started in 1989 with a goal to find the finest clothing makers for big and tall men. The Westport store was originally started from Connecticut but soon gained popularity and expanded to Charlotte, North Carolina. Today Westport is reachable to a number of cities around the world. The mission of Westport is to entirely focus on quality and style. The reason for their prominence is to let their customers to have an enjoyable shopping experience which they could hardly find anywhere else. Initially their collection was made up of only leading clothiers including Lacoste, Cutter and Buck, Tommy Bahama and Polo Ralph Lauren. But now with the successful growth of their business, they feel pride to offer you several brands that produce big and tall style clothes exclusively for Westport. Their newly top brands include Thaddeus, Toscano, Peter Millar, Bills khakis, Bugatchi, True grit, agave and many others you can find on their website.
Their collection of clothes is divided into eight categories including best sellers, Westport exclusives, team shop, golf collection, athletic shop, outfits, Cutter and Buck classics and online exclusives. Apart from clothing section where they offer you pants, shirts, shorts, sweaters, outerwear and dress clothing, they have an accessory section as well. Understanding the significance of accessories that reflect your own signature style, they offer you wide range of styles, colors and fabrics. In accessories you can find wallets, underwear, socks, belts, footwear, jewelry, loungewear, neckwear, scarves, gloves and reading glasses of the renowned brands.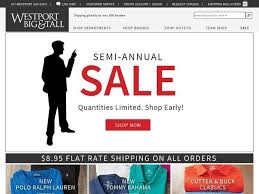 Moreover, they have a luxury section as well where you can have the best luxurious shopping experience. Westport big and tall offer sales on all their clothing and footwear items. On their website, you can find their Club Westport Membership. The membership offers you several advantages. They provide their members 10% discount on their first order. They provide you free domestic ground shipping throughout the year on every order you make. Similarly, free shipping on returns is also there for one year. In addition to that they provide exclusive discounts to their members and also advance notification of special sales and promotions. You can avail the whole package at the minimum cost of $49 a year. Click membership to your shopping cart and get your annual membership.
Also you can request a catalog to select your favorite outfits and get to know about the latest fashion trends. They offer you gift certificate as well to give your loved ones the best shopping gift. Furthermore, topper's world of big and tall fashion is an exclusive fashion guide for you on their website. Topper enables you to select the best suited outfit for you, the colors of your outfit and lastly the selection of the fabrics. Topper's guide brings out the classy outfits for you around the world. If you have any concerns or queries, you can directly contact them through live chat on their website.www.westportbigandtall.com