Staff Picks to help you save even more at WayToStay
Expiring WayToStay Discount Codes . Good luck!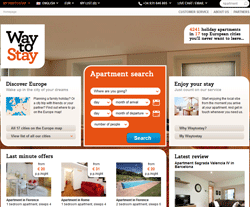 Visit waytostay.com
WayToStay Promo Code website view
Way to Stay is a great place to plan a holiday in a beautiful European city. Visit the Way To Stay website to learn more about their holiday apartment rentals in Europe. If you are planning a travel event and want to stay more comfortable during your trip, do yourself a favor and checkout Way To Stay. You can book an apartment for your romantic weekend, checkout Christmas or specific event apartments, find a tourist spot, flat by the beach or even a four bedroom house with a garden, Way To Stay is the better option for traveling abroad. Visit their website for the full list of destinations and housing options in popular locations like Paris, Berlin, Barcelona, Lisbon, Florence, Amsterdam, London, Madrid, Prague, Valencia, Istanbul, Seville, Vienna, Budapest and more. Sign up for the Way to Stay email newsletter to get the latest on their incredible travel deals and savings.