Learn More About vitalchoice.com

Vital Choice, the company that was founded in 2002, has a great dedication towards the health of its customers, employees and the environment. It provides the purest and finest quality of wild seafood and organic food and has grown rapidly in the past years. It also donates the portion of its profit towards the planet protecting programs. Vital Choice is trusted by the customers for its fast delivery of wild seafood and organic food from well managed farms and fisheries that are certified either by MSC or the State of Alaska. At Vital Choice, it is believed that the best and fresh seafood is the one which is frozen for a short period of time after harvesting. And all the frozen items remain the same way until they get cooked so, the food has the fresh flavour, good texture, appearance and nutritional qualities. The seafood provided by Vital Choice is very less in pollutants like dioxins, pesticides, furans and organo bromides. If a person is looking for an excellent source of wild berries and fish, then Vital Choice is the best choice for them. The variety of food that one can find from Vital Choice includes wild salmon, shrimp and shellfish, wild cod, halibut, tuna and more, smoked fish, canned seafood, salmon burgers, bacon and sausages. This list has lots more that can let one to have a watery mouth. Vital Choice keeps on improving its products, ideas and the concept of customer satisfaction, as keeping the customer satisfied is its main priority. It also has a special health wise rewards program for its frequent customers. According to this rewards program, when a customer places orders online, then that order qualifies for a specially benefited reward program and the average of such 9 orders is credited to the customer's account as a Gift Certificate, which can be used by them for their future orders.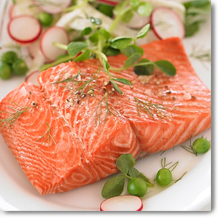 Vital Choice uses major shipping companies like DHL, UPS or FedEx for shipping their orders worldwide. All its products are packed in the spill-proof and protected containers that are eco-friendly and durable. It uses 100% biodegradable Sea Saver packing that is flexible, soft and has a recycled cotton fibre pad with the moisture resistant film. Many happy customers are connected here because of the superior quality of its food and its finest packaging. It also keeps the privacy and security of its customers at the top, that's why it makes the use of major credit card processing companies for the billing of the goods for its customers. It has great products of superior quality that one can trust and rely on. Talking about the purity of seafood, the food provided by Vital Choice is free from hazardous levels of mercury. The species provided by it are low in mercury inherently. The amount of mercury in fish provided by Vital Choice is far below from the conservative level set by the U.S. Food and Drug Administration. So, all the seafood provided by it is safe to eat freely and frequently. In many ways, Vital Choice has tried to go green and for that matter, it has started with the VitalGreen™ program. This special program facilitates the recycling of its EPS shipping cubes and also donates thousands of dollars every year to some environmental organisations in order to protect the environment. It also provides its customers with special offers, health news, recipes, free seafood cooking guides. A customer can also look for cook's tools and books, samplers, gifts and pet treats and thus, make the whole kitchen and living room look wonderful.