Learn More About visionpros.com

VisionPros is a family run business which was first proposed by Dr. Jessy Manhas, a graduate of Waterloo University, who practices optometry in Vancouver, British Columbia. The doctor after getting into practice soon realized that patients were unable to afford prescribed contacts and eyeglasses due to high prices and encouraged his brother Morick Manhas to launch the business making eye care products affordable to all. Morick who was already an optician worked hard to create an online retailer to serve North America and Canada, an effort we today know as VisionPros. The business started shipping off from Morick's own house, with deliveries being made at all hours of the day and today the business has expanded to over 40 employs in three countries. Even with all the expansion projects, the business has remained committed to it's core family values and the founders themselves foresee the day to day operations such as making decision hen warehousing, pricing and packing & shipping of orders to make sure the original essence is not lost.
Living true to their vision statement, with combined efforts of family friend, Frank Racanelli (CEO, VisisonPros) and Dr. Jessy's Wife, Dr. Diane Spada, the business went out to form a charitable organization called "Eyes for the World", which is committed to provide affordable eye care products in developing countries. Each year the organization makes a week long trip to El Salvador, Jamaica and Ghana to conduct a free of cost eye checkup campaign, where comprehensive eye exams, eye glasses, eye medications, contact lenses and sunglasses are provided to the less fortunate, free of all costs.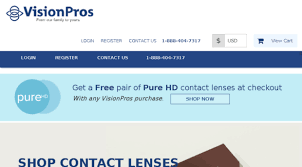 The environment at their outlets is extremely friendly and each and every customer is treated individually with respect and care, again maintaining family like values. With their online store, the business targets a much larger audience and ships to them at very affordable price point to make sure the extra costs add no burden. What perhaps has made them so successful is staying true to their values and vision and working hard to achieve the cause o matter what the circumstances. Their products catalogs include eye care equipment of all types and in all brands, shapes and sizes. They offer products made for both the genders in a variety of designs providing even more value for their low costs. The brands which the business deals in the most include: Acuvue, Optix, Biofinity, Dailes, Proclear, Pure, FreshLook and Previsison. The business can ship huge volumes of orders daily throughout continental USA and Canada and this is because they have the offered items available in stock at all times, ready to be shipped. Each order is assigned a tracking number which lets the customer know where does the order lay at the exact moment. Orders are usually processed and shipped the nest working day and in case of weekends, Monday. Special orders which may include rare products such as torics, multifocal or colored lenses and positive power lenses are ordered directly from the manufacturer and takes an additional 4 days to process. Eye glasses might take longer times around 5-7 business days due to time consumed when assembling them. The store shows further flexibility allowing customers to use aby form of online payment including Visa, Master Card, American Express and PayPal for both American Canadian customers. The store allows returns for up to 365 years which is phenomenal for a business of such caliber, the returns however requiring the product to be unopened, unmarked, undamaged, unexpired, and in original condition with packaging. Returns falling on the above criteria would be made free of charge and incase opened would not be viable of refund of exchanged at all. Some products are non refundable or exchangeable due to them being ordered directly which manufacturer, these include Proclear Toric XR, Proclear Multifocal XR, Proclear Multifocal Toric, Frequency 55 Toric XR, Encore Toric XR, and Vertex Toric XR. Sometimes customers may receive defective products and once verified when sent back are viable to be replaced free of cost no matter what the nature of product is. Exchanges are made following the current prescriptions only and no refunds are offered in this scenario. The Return procedure is every easy, which requires the customer to send in product details and the problem, where they are assigned a Return Merchandise Authorization (RMA) number, without which no order would be eligible of returns and would not be received by the store.
The business following all corporate policies and strategies has still tried to accommodate the customer to the maximum even at their loss and this prioritization has made them see unstoppable success.