Learn More About verbling.com
Learning a new language is a very peculiar skill to acquire. The normal rules of intelligence do not necessarily apply to it. You may be an otherwise very smart and educated individual, and still fail to grasp the finer details of a foreign language. And sometimes, you can't blame yourself for your failure. A teacher is as responsible as a student in language learning. And that is the inspiration behind the San Francisco based online language learning service, "Verbling".
Verbling was launched in 2011 and has continued to grow exponentially ever since. Perhaps it's the fast globalization that we can point to as the reason behind the fast growth of number of people lining up to sign up with the company, but it is the unique concept as much as anything else that is at the heart of the company's success. Verbling specialize in teaching languages through online courses and one-on-one classes. The company claims to have found the perfect solution to all of the problems usually facing people who want to learn foreign languages. First of all, the courses are not just study material that is handed out to students to learn from. All of the courses are customized according to the proficiency level of the learner.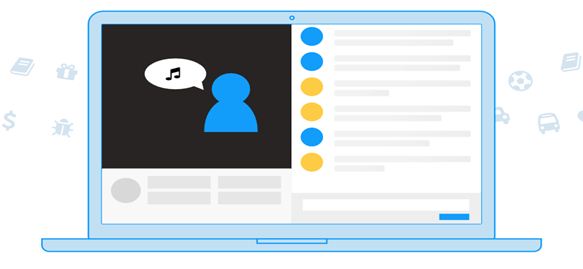 There may be many reasons why a person wants to learn a language, and their needs will vary accordingly. You may be just a curious person looking to try your hand at a new language as a hobby, or you could be looking to learn it before moving there. All types of cases will require different approaches and styles. Similarly, you may already be familiar with the basics of a certain language, but may want to be fluent, or you may be a complete newbie. Verbling have solutions for all types of learners and all proficiency levels. Another huge plus the service has is that the online courses are available to everyone and everywhere. The teachers are available for classes 24/7 and you can schedule your one-on-one classes according to your preferred timings, no matter where you are in the world. The program is available globally.
The ease of use is one of the major selling points of the company. It claims that you can book your classes in just a few clicks and without any lengthy sign up procedure. The teachers are available 24/7 as per the student requirements. The company also puts a lot of emphasis on making sure that the teachers available are only the most effective and driven ones. There are some grueling tests that every teacher has to go through in order to prove their credentials before being selected for the program. This has resulted in a very high success rate and very satisfied students who bestow the company with the highest praises. Much of that probably has to do with the quality of the teachers coupled with the extensive syllabus available for each language. The classes are exclusively through video chats so that any and all questions can be answered in real time, and through natural human interaction. The company has continued to add to their impressive list of options and currently boast of 36 languages that you can choose from to learn.
Considering all of the perks on offer, it feels like quite an affordable service too, with $15/hour the standard rate for all languages. It is certainly much more affordable than some of the programs you have to enroll in and physically travel to. If there ever was a perfect place to use the internet to improve the experience and affordability at the same time, this is it. Apart from the language learning, this can also lead to tons of fun, talking to people from across the world and learn their cultures too.