Learn More About uworld.com

UWorld is a Texas based online learning website which is designed to assist US medical students with their licensing exams. The website acts as a resource for the preparation of USMLE exams, board certifications (ABIM and ABFM) and nursing exams. The website not only provides updated questions but it also helps students in their learning through its well designed content. The online resource is designed by a team of healthcare professionals in 2000 after their own experience with the lack of resources and difficulty in preparing for license examination. The team creates the online resource center in a bid to provide smart interactive learning resources and practice questions for students that can help them with their studies and exams. The website currently offers to assist with USMLE step 1, step 2 CK, step 2 CS and Step 3 exams and certificates. Other than USMLE, the online learning resource also helps prepare for ABIM and ABFM board certification along with NCLEX-RN exams for nursing students. All the questions provided on the website for practice are designed by the professional educators and authors with real life examples. The questions are also updated frequently with the same difficulty level as of the actual exam or in some cases, a higher difficulty level to help students prepare better.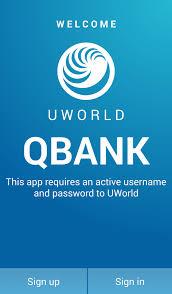 Other than help with practice questions, the website also features content to help students master the concepts behind each answer. Their members can have access to detailed and visually rich explanations of each topic. The content of the website is also designed to fill the gap between what is taught and what is actually tested in the exams. The website offers paid membership to provide access to their practice questions bank also known as Qbank. Once you are a member, you can attempt as many questions as you want and can also keep track of your scores and overall performance. UWorld currently offers three different subscription packages which include 3 month, 6 months and 12 months subscriptions. Users can also renew their subscription anytime but cannot change it to other types. The membership also provides access to the software which helps with personalized learning for every member. The same subscription and software can be used from different locations and devices. Interested people can buy their subscriptions by paying once for the entire membership through all major credit and debit cards, demand draft, money order and personal check. If 50 or more students are buying their membership from the same school or institute, the website provide special discount on such group bookings. The website currently offers no refund, changes in subscription and cancellations once the account is active other than few exceptions. For further questions, users can contact their support through email or fax. All in all, UWorld is a quality learning resource for medical students who are preparing for license examinations. The updated questions, detailed conceptual explanations and personalized learning features are smart tools that can help students pass their exams with flying colors. Highly recommended if you don't want to risk failure with your license examinations.