Learn More About usgashop.com
If there is one thing all golf fans agree on, it's that golf is not like any other sport in any way. It has its own style, its own allure, and a whole different charisma that pulls people towards it. More than just the sport itself, it is the lifestyle that the sport perpetrates which is the real difference maker. The sense of style that originates from the gold course, trickles down to every single fan and becomes a fashion every bit as trendy as any of the biggest fashion houses. Golf apparel is the most practical and ready to wear apparel of any sport, mostly owning to the fact that it can be worn anywhere, anytime and partnered with anything to make a style statement.

The USGA Shop provides fans the option of owning special clothing marked with their favorite sport and its most famous tournaments. Whether you are a teenager with a keen interest in the sport, or a business person who follows the game with keen interest, you would normally want to own some of your favorite clothing pieces that make you relate better to the game and give you a chance to show off your loyalties. That is where the USGA Shop can help you get that perfect look. You can have a choice from a number of apparel and body gear to buy, and even customize it to suit your personal preferences.
First of all, there is the supremely popular US Open. On the website, there are numerous clothing options with the US Open logo. You can go for the tee-shirts if you want to want them to college or just casual use, and there are some sweatshirts for the cooler weather. There are also some very stylish pullovers in US Open colors. There are even some reversible vests available to buy, which is quite handy for the more fashion conscious fans out there. The company also sells gold headgear that you can wear while playing with your friends, or just out on a sunny day. The catalogue contains Shamrock caps with the official logo, US Open Trophy caps, US Open Visors, US Open Sun Hats, and many other variants too.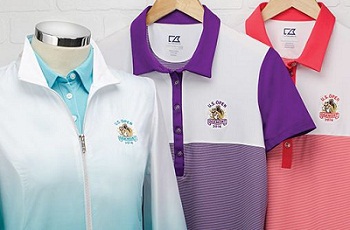 You can also buy US Open and other golf-related gifts from the site, including a 2016 U.S. Open Poster Autographed by Lee Wybranski, and 2016 U.S. Open Mug by Kapan-Kent Co among others. And if you are looking for a more personalized product, you have the option of having your own personalized 2 lines written on your products. These include everything from duffle bags and towels to bag tags and caps. Although it's worth noting that the personalized items will not fall under the return-policy of the site.There is also women's apparel in all of the same categories, including the US Women's Open merchandise. From plain tees to stripped ones, and stripped polo shirts to sleeveless pools, every bit of variety is there. Women can also buy their headgear, accessories, and personalized items from the site.That is not all, the site offers much more than just apparel, including Golf-related books, calendars, and DVDs. It really is a paradise for an American Golf lover.