Learn More About us.havaianas.com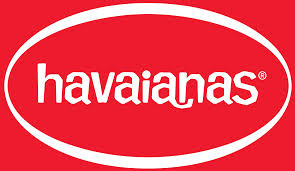 Havaianas is a Portuguese word, which stands for style, comfort, affordable luxury, and positive energy. The first pair of Havaianas was born in 1962, based on the traditional Japanese sandal known as the Zori, whose soles are made of rice straw. The texture of Havaianas' rubber soles are like rice grains, one of the many details that make Havaianas unmistakable to recognize. The company is based in Brazil and is widely popular in the country with almost 90% of the population opting them for daily footwear, even by 1964 practically every worker in Brazil wore Havaianas. Traveling salesmen in their vintage Volkswagen vans would take Havaianas throughout the countryside cities in Brazil and sell them directly from their vans. The vans were always greeted with excitement and Havaianas were distributed in simple plastic bags. Havaianas officially became a fundamental part of the Brazilian lifestyle. By this time, millions of pairs of Havaianas were sold each year and Havaianas had become a basic necessity for all Brazilians. In fact, they were even listed by the Brazilian government in a list of fundamental products to control inflation, just like rice and beans.
They were traditionally available in blue and white until a production error produced a batch of green Havaianas, which ended up hitting the marketplace an gaining a The positive reaction. The company seized the opportunity and started producing brown, yellow and black pairs as well. Introducing new colors and styles opened them to the world of fashion where they started issuing special collections of sandals featuring exclusive details such as crystals and metal meshes which are hand-sewn by artisans in Northeast Brazil. The sandals were truly a unique and sophisticated collection expertly crafted by Brazilian hands. This slight conversion let them enter the fashion market in full fledge, marking an amazing journey from the living room to the ramp floor. First seen on the runways of the French designer Jean Paul Gaultier show, Havaianas soon begins working with some of the biggest and greatest brands and designers from around the world.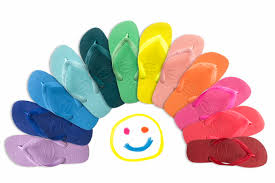 The company has been part of a great many causes, campaigns and programs and along with its parent company, Alpargatas, believe in social and environmental responsibility. They participate in many programs and contribute to organizations ensuring that we do our part to support society and our planet.
Alpargatas, the parent company of Havaianas, employs over 12,000 employees worldwide in operating countries. Alpargatas' first priority is developing and implementing programs of work safety, occupational health and environmental sustainability. Some of their contributions in sustainability of the society include:
• Activities to reduce electricity and water consumption
• Sensible development of materials to be used in our products
• Launch of ecological product lines
• Rubber and PVC residue recycling
• Environmental Education for employees
• Compression of non-recyclable residue
Careful transportation and destination selection of residue
Havaianas also holds a Guinness Book record for the longest line ever when thousands of Australians gather to buy the pool floats in the shape of Havaianas flip-flops, the sales received from the event was donated to different social projects.
With the advent of modern technology and worldwide web, the company has gone online to deliver products all across the globe, the online store is well designed to be intuitive and user friendly at the same time. The store's policies are very flexible and are devised to facilitate customers to the maximum. Their online store currently accept Visa, MasterCard, Discover, and American Express, the online US store only accepts US based credit cards and valid US addresses.
The company ships through a number of options, these include:
• Standard Shipping (4-7 business days) $1
• Ground Shipping $8
• UPS 2 Day $15
• UPS Next Day $25
• USPS Priority Mail $8 (PO Box and PO/FPO deliveries)
Your purchase can be returned or exchanged, within 30 days of purchase, as long as it meets the following requirements:
• The product is returned in its original packaging
• The original hang tag is attached to the sandal
• There are no visible signs of wear and tear
• A copy of your original receipt
With such flexible operational policies, the store has found great success and has gained millions more in revenue from the online markets.