Learn More About urthbox.com

UrthBox is all about the interesting discovery of healthy new snacks. Every month URTHBOX will help you to discover healthy, safe and natural products from trustworthy brands that you can purchase at your local stores or at the UrthBox Shop. In Vegan, Classic, Gluten-Free and Diet box options, the company will send you beverages, food, snacks and more that are organic, NON-GMO and natural right to your door every month. And shipping is always free for the buyers. HOW IT WORKS? Every month, the company's expert buyers carefully select new products that undergo source, ingredient, nutrition, calorie and manufacturing reviews. Only the products scoring high are passed to the company's members. Just select a box and they will take care of the rest. Select a Box: Select a box size and choose from the Gluten-Free, Vegan, classic, Diet options. One can choose anywhere from one to six month subscriptions that can be gifted to friends too. Shipment: Every month, the Urthbox will ship at the same time. The company will email once the box is ready to ship. Enjoy: Once you receive the box, you'll be surprised with carefully selected fresh new snacks that are all yours. Enjoy what you wanted and purchase more of what you love at the best member discounts at the UrthBox Shop or at local stores. Loyalty Points: one will also earn big points for every subscription month, for every purchase that they make at the UrthBox Shop for referring friends. One can easily redeem points for even bigger discounts. THE BOXES: UrthBox comes in four easy options designed to meet the lifestyle and specific needs. The Classic-This is a complete care box with no dietary restrictions. The Gluten-Free-This box matches and offers the same special service as The Classic, but in 100% Gluten-Free. The Vegan-This box also offers the same service that is provided by The Classic, but in 100% Vegan, no animal products or animal ingredients are used. The Diet-This box simply matches and provides the same service as The Classic, but with a strong emphasis on weight loss metrics including low carbohydrate counts, low calorie counts and low fat values.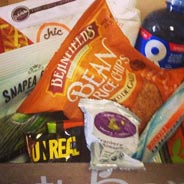 It's a well known fact that the primary driver of the good or bad health is what we all consume. Both adult obesity and childhood obesity largely have to do with the types of foods that we all consume, especially while snacking. And, with the busier and busier daily lives of people, keeping everything from fitness, career and family in track, who has the time to make sure the very important thing that keeps everyone health too? UrthBox is a subtle and convenient way to make sure one has access to healthy snacks for its office, the home or on-the way. The company will help all its customers cut through the crud and keep them all focused on making healthy foods a priority in once life. The convenient discovery of tasty new snacks is made for once busy lifestyle. Healthy replacement products are available for office, home or on-the-go. Better Value for once money with up to $100 value boxes. Big Discounts & gift cards are provided by the company that one can use online or at local stores. Help change eating habits everywhere starting with oneself & their family and wait for a Pleasant Surprise at the doorstep every month.