Learn More About ulta.com
Ulta Salon is a chain of beauty stores in the United States which carries cosmetics and skincare brands, men's and women's fragrances, and haircare products. Every store is also equipped with a salon while the company is headquartered in Bolingbrook, Illinois
Founded by Richard E. George, the former President of Osco Drug, Inc. the store has managed to create its own mark in the industry. In December 1999, Lyn Kirby, formerly of Sears Circle of Beauty, became the President and Chief Executive Officer and Weber became Senior Executive Vice President, Chief Operating Officer and Chief Financial Officer. They both ran the business together until Weber left in September 2006. On October 25, 2007, the company became publicly traded on the NASDAQ.
The company has branched out in 715 different locations as per August 2014. It offers a wide collection of products which include skincare, hair care, makeup, fragrances and what now. The company has said to have 1,000 stores located in the United States by 2017. With over 20,000 products and 460 brands in their traditional 10,000 square feet stores, offering both high-end and drugstore cosmetics, skincare, and fragrances, Ulta is one of the leading stores in the United States of America.
Some of the brands that Ulta carries includes bareMinerals, Benefit Cosmetics, Clinique, Smashbox, Stila, Urban Decay and Tarte. Drugstore brands include Covergirl, L'Oréal, Mode Signature, Maybelline, NYX Cosmetics, and Revlon. It also has its own store brand which includes makeup, bath and body, skincare, hair, nail polish, and fragrances. Ulta Beauty also offers "Only at Ulta" cosmetics for their loyal customers including Stila palettes, IT Brushes for ULTA, Tarte kits, and bareMinerals and Benefit Cosmetics sets.
The company offers a free customer loyalty program called Ultamate Rewards, where customers can redeem points on any in-store or online purchase using their membership card. The customers who spend $450 within one year are then upgraded to the next Platinum level. The perks of achieving Platinum status is that the customers can earn points 25 percent faster than before and their points do not expire as well. Customers accumulate one point for every dollar that they spend and are not limited to what products they can redeem their points on.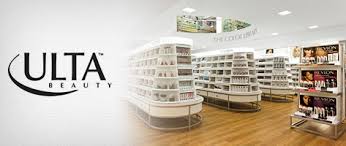 Ulta Beauty as always focused in charity giving. The company has been giving charity to The Breast Cancer Research Foundation and their charitable donations fund research related to the causes, treatment, and possible prevention of breast cancer. With this cause, which benefits women, their families, and their loved ones across the nation, Ulta Beauty seeks to not only bring a greater sense of community amongst women worldwide but also raise awareness about the importance of finding a cure.
The online website allows customers to shop their favourite products online without any hustle. The site takes in the customer's personal information and secures it without letting any third party use it for their benefit. The information stored is used solely for the purpose of purchasing an item and delivering it to the customer's house.
Visit us for more atwww.ulta.com