Learn More About fireflycarrental.com

Firefly is essentially a car hire company that provides competitive and low rates on car hire prices for the traveler on holiday. Firefly has its presence in top European cities like Malaga, Alicante, Seville and Valencia in Spain. Firefly operates from Rome, Milan, Catania, Bologna, Cagliari and Pisa for Italian customers. In France, Toulouse, Bordeaux, Paris and Marseille are covered. Firefly is also coming up with locations in Croatia and Iceland. The sole aim of Firefly is to provide everyday low cost rental car services for tourists. The fleet of cars from the firefly stable range from small cars for weekend getaways to full size cars and SUV's that are available for hire if you need longer family holidays. Let's take a look at the cars they have at their disposal. The Mini is a tiny car suitable for one or two people, easy to park and consume less petrol. An example of a Mini is a Peugeot 107, a Fiat 500, or a Fiat 500 Guaranteed automatic model. Then we come to the Economy Class; economy cars are small vehicles with two or four doors and best suited for a maximum of four occupants.
For a person on a short budget, an economy car is a very good deal. But for those with a large luggage to boot, it is not the right car. Examples of economy cars are the Opel Corsa and the Ford Fiesta. Then there are the compact cars which are ideally suited for shorter journeys and can easily accommodate a family with their luggage. Most of these cars come with air conditioning. Low fuel consumption and easy parking are added bonuses. The Kia CEE'D, Renault CLIO Station Wagon and the Volkswagon CADDY are perfect examples of this type of vehicle. Lastly, we come to the Intermediate/Standard vehicle class. It will fit within your budget and seats four to five people, coping with a fair amount of luggage. For explorers who wish to travel outside the confines of the city, this is a great class of car. Examples of Intermediate vehicles are the Opel Zafira Automatic, Opel Zafira and the Ford C Max.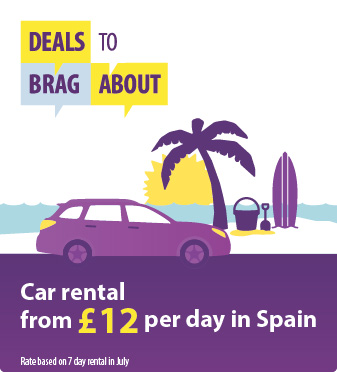 To make a reservation, visit the Firefly website and fill out your details like your age, renting country, airport location, rental start date/time and rental end date/time. To modify or cancel a location, enter your confirmation number and e-mail address and Firefly will get back to you. Firefly offers promotions like an extended tour of France within a few hours of drive outside Paris.
Car hire locations are situated at all the major airports, some of which are Alicante International airport, Barcelona Airport, Gerona Airport, Madrid Barajas Airport, Malaga Airport, Seville Airport, Beauvais airport, Bordeaux-Merignac airport, Marseille Provence Airport, Nice airport, Paris Only airport, Toulouse airport, Alghero Fertilla Airport, Bari Airport, Bergamo Airport, Cagliari airport, Catania, Florence Vespucci airport, Genova Cristofora Colombo International airport, Milan linate airport, Napoli airport, Palermo and Rome Fluminiso Airport. There are a lot of other airports where Firefly operates from. In Greece, Athens, Thessalonika, Chania and Rhodes airports have Firefly. In Iceland , Firefly operates from Keflavik and Reykjavik Downtown airports. Hence if you are visiting Europe and plan to travel by car, Firefly Car rental should be your first choice because of its myriad options and savings packages. Firefly gives you the options of unlimited mileage, baby seats and boosters, insurance products like Super cover and personal insurance as well as additional drivers.