Learn More About uhaul.com

U-Haul came into existence when there were literally no truck rentals around, and this was one of the reasons that contributed to the success of this whole concept.L.S. Sam Shoen and his wife, Anna Mary Carty Shoen realized the importance of a trucking service when they themselves had to move from Los Angeles to Portland. They literally had to struggle with what they could carry in their 1937 Ford, leaving the rest of their goods behind. The trucking service was thus launched in 1945. Initially, the company had hiccups getting into the groove and becoming successful, but over the years, business picked up and what was a humble company, eventually became a huge one with locations in several parts of America. The business grew so big that many people applied to become their dealers and drivers. The company's services do not stop at providing trucks for moving purposes, they also have made arrangements for one-time moving. The company's services grew so enormously that they started to provide storage facilities, moving boxes, packing materials and literally everything you would need for hassle-free moving.If you need guidance while hiring a truck or moving your goods, you can get in touch with the transportation specialists, who would guide you every step of the way, thereby saving time and energy. The company provides unique array of trailers like cargo trailers, utility trailers and car trailers. And among the three categories, you have trailers with different capacities that you can select, based on your requirements.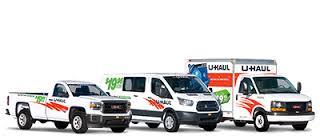 A noted feature about U-Haul International is that all the trucks of the company has towing capability, and they claim to be the only company of its kind that rents out one-way towing equipment without a moving truck.The company has come up with an innovative product called U-Box containers where you can actually fit goods that take up half a room. This would help you to load and unload goods and if you are planning to relocate to another community or state, U-Box containers would be of a major help. Actually, these containers are used for both short-term and long term requirements because they can do the job quickly.The U-Boxes come in different dimensions to help people choose boxes depending on their size and requirement.The company has a U-Haul storage facility where you can store all your goods safely. There is a climate control feature for added security of stored goods. You can contact the company to know more about the storage facilities offered and the rates for which services are provided. Visiting the U-Haul website would pretty much clear all your doubts regarding packing and moving, especially when you have doubts regarding storage supplies and truck choices. The company is open for service 7 days a week, so any day you want to move, you can makeprior arrangements with them. You can hire U-boxes and a U-Haul storage facility through their website and pay online. Everything is so easy that you can do it while sitting at home. The website is constantly updated with the latest information on products and services offered by the company. The quick navigational feature integrated within the website has made it easy for people to find what they are looking for.