Learn More About trivago.com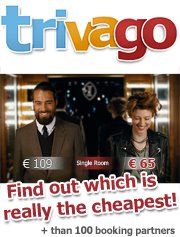 Trivago is all about searching your ideal hotel that too at best price. If you are a traveler, hotel booking done beforehand is of utmost importance for you. And why not, after all it gives you a sense of satisfaction that you have got a place for your entire stay which is worth it. Trivago too believes the same and that's how it has been considered as a hotel meta search that caters millions of travelers each month. It has been its mission to be every traveler's first and independent source for finding their ideal hotel at best price. Trivago compares more than 900,000 hotels from over 250 booking sites and hotel chains at once. When you spot your ideal hotel you have the option to go directly to the booking site to complete your reservation.
Trivago was launched in 2005 in Germany. The United Kingdom platform was launched in 2006 and later the website launched further platforms including the first non-European platform. In 2012,Expedia bought 61.6% of Trivago and since then, it has grown and top grossed. Trivago ensures that all hotels have a rich and full profile on site offering it's visitors the best hotel search experience possible. It does not only serve hotel seekers but hotels owners and managers, booking sites, chains and CRS providers. Hotel seekers can take a look at the site where there are lots to choose from. You can also sign up to your favorite hotels and share them with everyone you feel like. Trivago loves to serve hotel owners and managers with best online impressions, clicks and bookings. Over 140,000 hoteliers around the world trust Trivago. If you too are a hotel manager, feel free to register on Trivago Hotel Manager at no cost. If you are an online booking site with an accessible API and are seeking a business that is well taken off, Trivago attempts to make it happen.

Trivago brings lots of benefits along. One of the most appreciated one is Hotel Price Comparison where it lists hotel rates from the best sources on the web and provides with ideal quotations. Its Hotel Price Index on site depicts the average overnight accommodation charges for different cities around the world. It is powerful because it indicates current average prices i.e.the overnight accommodation prices of over 250 online travel agents and hotel chains. Trivago stores all hotel inquiries on the basis of which prices of standard rooms are calculated. Apart from this, a tool, named Trivago Hotel Manager, allows you to build your own hotel profile which you can update periodically. This tool helps you control your hotel as well as your competitors and has multiple marketing solutions that can be used for improving performance. You can also track online success for your hotel on Trivago through hotel information, reputation and rates. The list doesn't end here. Its Hotel Manager Pro drives more guests thereby helping hoteliers increase their visibility and attract traveler's attention through exclusive hotel news, contact details and detailed benchmarking analytics. You can also gather feedback from travelers through Trivago Quality Test.With the aim to be the best travel site in the world, Trivago attempts to provide an unforgettable hotel experience at best possible price. Happy Traveling!