Learn More About topman.com

Topman is one of the largest men's fashion shop which offers great styling products to achieve your own look to define yourself. The store showcases all the latest men's clothing trends and brands, featuring fashion staples like men's suits, jeans, shirts, jackets, shoes and more. Running in the business since years, Topman has come a long way from where it all started. From British high street phenomenon to worldwide dominator, Topman has been making a mark for itself since 1978 with over 250 stores in the UK and a further 154 stores internationally across 31 countries.
With stores in over 60 cities worldwide, stretching across 20 countries. They have their shops in China and Japan even stocking the brand. America is also getting trendy with Topman styles with stores in LA, Vegas and New York. The biggest store they own is on Fifth Avenue. Not just that, they also have over 40 Nordstrom stores housing the brand. Topman owns one of the major stores in UK which they are expanding with another Topman floor and are hosting a free Personal Shopping Service. About 75,000 people storm in to shop in the 15,000 square foot floor every week and that number is just growing every day.
There are 100s of new products at Topman. The company believes in presenting high quality products in a huge variety to make the customers satisfied and happy. Topman's fashion forwardness continues into cyberspace with their transactional website Topman.com which has millions of visitors every week. The online website ships to the UK, Europe, USA, Australia, Thailand, Singapore & lots more with good delivery options according to your purchase order and preferences.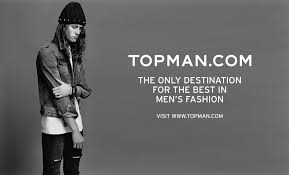 The company is a great supporter of UK menswear design talent and they prove it by its own partnership with FashionEast and sponsorship of the British Fashion Council's NEWGEN MEN scheme. The brand also has TOPMAN DESIGN, their in-house designed premium collection that's showcased during London Collections: Men. The hardworking and dedicated team continues to work in order to open the biggest event of the year in menswear and are the only high street brand to show.
The brand also offers a Topman Card which introduces a new way to shop online for the customers. You can avail various advantages through the card and enjoy a better shopping experience. It allows you to enjoy different facilities including:
· Buy Now Pay 3 Months Later
· Free standard UK delivery four times a year, when you spend £50 or more when using your Topman Card.
· Receive your very own Topman Card in the post within 7-10 days.
· Access your personal online account manager any place, any time meaning you can manage your account whenever you need to.
To avail the Topman Card one must fulfil these requirements:
· be 18 years or over
· be a permanent UK resident and have lived in the UK for the last 12 months (unless you're HM Forces Personnel)
· have a current UK bank account and a home or mobile phone number
· do not already have a card from Topman
· have a regular income
For more information, visit our official website.www.topman.com