Learn More About toddsnyder.com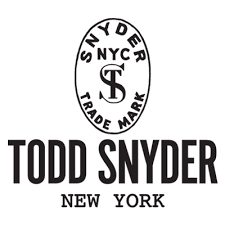 Todd Snyder is an Iowa native designer who launched his menswear collection at Bergdorf Goodman, Ron Herman, and Neiman Marcus for Fall 2011. Born and raised in Ames, Iowa, Todd Snyder grew up idolizing the style of America's greatest designers including Cary Grant in North by Northwest, Steve McQueen in Bullitt, and, of course, Jack Kerouac. The designer was also inspired by Savile Row craftsmanship, military tailoring, and a distinct New York sensibility. All these bits and pieces can be seen in his line which gathered a lot of critical and commercial praise in US.
The collection at Todd Snyder includes tees, tanks, shirts, pants, suits, accessories, polos, sweaters, outerwear, and everything else for men. Just not that, the designer also offers a great variety of clothing for women as well which includes tees, tanks, sweatshirts, and jackets.
In 2012, the line was selected by Barneys New York and select Nordstrom stores. Snyder was later nominated for the CFDA Swarovski Award for Menswear and named one of GQ's Best New Menswear Designers. More recently, Snyder was selected as one of the 2013 CFDA/Vogue Fashion Fund finalists. Todd Snyder has also achieved some great awards including 2011 GQ Best New Designer in America, 2011 CFDA Swarovski Award for Menswear Nominee, 2012 CFDA Swarovski Award for Menswear Nominee.
Todd Snyder has been reaching the heights of success as it is in his roots. In Dutch, his surname means "one who makes outer garments". As a student of textile and clothing design at Iowa State University, Snyder learned the art of cutting and sewing at the Des Moines haberdashery Badowers. He spent a great deal of time in New York to polish his skills by designing outerwear for for Polo Ralph Lauren, working as Director of Menswear for the Gap, and SVP of menswear at J. Crew, where he revamped men's styling, introduced formalwear. He launched a series of collections in collaborations with brands likeTimex, Red Wing, Thomas Mason, and Alden. In 2013, Todd launched his collection which was in collaboration with the iconic Rochester, NY-based sportswear brand. During that time he also opened his first New York boutique, called City Gym, at 242 Elizabeth Street in NoLiTa.
The online website of Todd Snyder allows you to shop from his store online. His collections are displayed in his digital store where you can read the details about a product along the price. The website has a user friendly interface to help the customers decide easily what they exactly want. The store accepts payment through different ways according to the customer's comfort. As personal information is required while sending out the orders, the website ensures that the precious information is not mishandled or misused by any third parties. They take extra precautions when it comes to protecting the customer's data.
Todd Snyder has been in this field for more than two decades now. With so much experience up his sleeves, the man has been setting some new trends in the fashion industry.