Learn More About thymematernity.com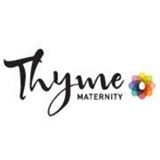 Thyme maternity is the most fashionable brand for moms-to be. It's the place where you'll want to head to when you want to ramp up your style during pregnancy and also add to the comfort level. You can look and feel your best at every pregnancy trimester and even after your baby is born, in maternity clothes that fit and flatter your ever changing body. Thyme Maternity offers you valuable advice, fashion tips and product knowledge on your journey from pregnancy to motherhood. Thyme Maternity is a proud member of the Reitmans family and has 68 stores nationwide in addition to over 20 shops in select Babies"R"Us locations in Canada. Thyme offers free shipping on orders of $99 or more.
Maternity clothes on offer are dresses, bottoms, leggings, sleepwear, outerwear, Stork& Babe Collections, tops, jeans, lingerie, swimwear, starter kits and fashion accessories. The maternity dresses available are feminine and stylish, made from soft fabrics to enhance your figure during and after pregnancy. Some of the favorites are; short sleeve maternity dress, short sleeve printed maternity dress, short sleeve knit nursing dress, long sleeve maternity shirtdress, Stork& Babe- sleeveless printed maternity dress, short sleeve maternity dress with beads, sleeveless beaded maternity dress, sleeveless nursing dresses, cold shoulder maternity dress, short sleeve maternity dress with chain detail, ¾ lace sleeve maternity dress and others.
The bottoms on offer at Thyme have stylish shapes and soft, durable fabrics making them the perfect choice for work days and weekends. The maternity jeans, pants, leggings and skirts have comfortable belly panels that give you a perfect fit throughout your pregnancy. Some of the featured bottoms are; petite straight leg maternity pant, straight leg maternity pant, basic maternity legging, basic maternity yoga pant, Stork & Babe- Ponte de Roma Maternity legging, skinny maternity Jeans, Tail boot cut maternity jeans and the knit maternity pencil skirt.

Leggings from Thyme Maternity are made from soft, stretchy fabric and have elastic waistbands and belly panels for your new figure with a variety of styles. The skirts on sale here have soft and stretchy fabrics, enhancing your silhouette during and after pregnancy, their stylish prints and colors making them versatile. You'll get striped Jersey knit, printed, lightweight, button up, maxi, denim and pencil maternity skirts among others. Warmer days can be enjoyed with capris and shorts which also boast of 3 in 1 belly panels that can be worn during and after pregnancy.
The importance of maternity bras cannot be overstressed. Your breasts can grow as much as 3 cup sizes during pregnancy and regular bras aren't designed to provide the support and comfort required. Thyme bras are designed to support your breasts, help prevent stretch marks, keep your breasts natural shape, adapt to an expanding rib cage and offer a smooth fit under your clothing. Thyme maternity also sells swimwear , which is made of stretchy fabrics and are colorful and trendy, sporting flattering cuts and fold over belly panels. Starter kits and fashion accessories are there for you as well. After your baby is born, you'll get all the help you need in terms of clothing and accessories from Thyme Maternity. They have nursing clothes, sleepwear, diaper bags, nursing basics, nursing bras, accessories, Baby Thyme clothes and hospital bag essentials. Skin care tips, trends and expert advice Is also offered on this website.