Learn More About theteaspot.com

The Tea Spot is the leading manufacturer of leaf teas and designer of Steepware tools that make the process of brewing loose leaf tea easy and simple. They were founded with a vision to take the authentic ways of drinking loose leaf tea and adjust it to modern ways and means. In 2004 Maria Uspenski saw all the benefits of drinking tea, health wise, and decided to bring fresh, loose leaf tea to the people and make it available to everyone. Since the idea was to make brewing loose leaf tea as easy as possible, she developed a new set of tools that bring this ancient tradition to the world of today.
The company strives toward complete eco friendliness and wants to increase the general health of the nation by creating a habit of drinking raw, delicious loose leaf tea the way it should be drank. Since Maria is a cancer survivor herself, 10% of all the company's profits are aimed at cancer and community welfare program. Premium blends that belong to The Tea Spot are created in Colorado where old traditional ways get reinvented on a daily basis. They have a perfect cup of hand brewed tea for every occasion, strong tea to wake you up in the morning and mild relaxing ones for long lazy afternoons.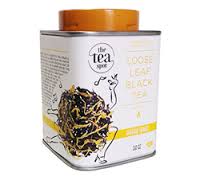 They have their own botanicals and tea-leaves which enables them to experiment endlessly and constantly invent new ways of drinking whole leaf tea. Good health and perfect taste are in each and every cup that gets made in The Tea Spot, and every customer leaves with a smile on his or hers face.
If you want to purchase tea samples from The Tea Spot and introduce this healthy habit to your own home you can do so by simply following instructions from their online store. Registering is easy and only take s a few minutes. After that you will be able to place an order on any tea blend you want and start sipping on it to every single day once it arrives.
Steepware are tools created by The Tea Spot that allow the average user to easily make a perfect cup of tea. Since the traditional methods require a lot of time and effort to make, Steepware will enable you to make a perfect cup of tea anywhere; at work, in the school or at home. Everything will be ready in a couple of minutes and you will be ready to continue on with your day. It is a modern tool meant to familiarize the modern human with this incredibly healthy and delicious ancient habit of drinking loose leaf tea.
Apart from Steepware they have developed several different filters that will allow you to take loose leaf tea and make and drink it on the road, and is especially convenient for all the busy people who don't have spare time to sit around and wait for their tea to boil. It is fast, convenient and all the original tastes and healthy properties are entirely maintained!