Texas State Aquarium Coupons
Expiring Texas State Aquarium Coupons . Good luck!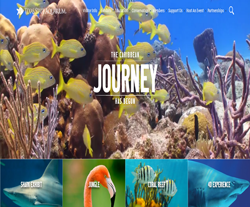 Visit texasstateaquarium.org
Related Categories
Texas State Aquarium Coupons website view
The Texas State Aquarium is a nonprofit aquarium based in Corpus Christi, Texas, United States.The Texas State Aquarium is dedicated to promoting environmental conservation and rehabilitation of the wildlife of the Gulf of Mexico. Their exhibits include an Amazon themed section, Dolphin Bay (which features two dolphins), Eagle Pass (which features birds of prey), Floating Phantoms (which features jellyfish and other aquatic stinging organisms), an indoor coral reef, their Hawn Wild Flight Theater (featuring trained birds), and more. From their site, you can find visitor info and make ticket purchases, learn more about their exhibits & animals, or find information on conservation efforts, education information (including camp-ins, field trips, outreach programs, summer SeaCamp, and more), and learn about membership benefits, (different membership packages offer unlimited visits, as well as the ability to bring guests for free). You can also find volunteer & internship information. Be sure to sign up for their newsletter to receive regular updates and offers.