Learn More About teva.com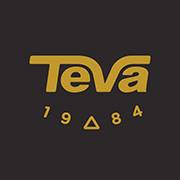 Teva has a unique history. Way back in 1984 a river guide in the Grand Canyon fastened together a couple of Velcro watchbands to an old pair of flip flops so that they wouldn't be washed away in the river. This was the first ankle fastened flip flop and the company Teva was born. It offers comfort and utility, both of which are indispensable for walking , trekking or plain running.
Teva offers footwear for children, men and women in a wide variety of styles and designs that are unique. Each season they launch a particular line of footwear that instantly finds favor with the Teva faithful. For women, Teva has sandals like the Terra-Float Nova, Terra-Float Livia, Terra-float Lexi and the Original Universal Inca. Platform sandals are also a part of the feature with the popular ones being Flat form universal Crackle, Flatform Universal Crackle, Mush, Olowahu, Classic Mush, Universal Flat form Jhene Aiko and others. Wedge sandals are also available like Mush Mandalyn wedge Ola 2 and the Mush Mandalyn Ola. Then you also have exciting looking sandals like the Original sandal suede braid, Avalina crossover leather and the flat form universal crafted. From the Original series we have the Original Universal, available in whatever color you choose. For those looking for a retro touch, there is the Flat form universal retro and the original universal Duncan. Shoes and boots are also available which live up to the high standards of Teva. Sizes come from size 5 to size 12 so most people shouldn't have a problem in getting fitted.
Men also have a wide array to choose from, like sandals, originals, flip flops, slides, shoes and boots. Some of the best picks for shoes for men are the Durban tall-leather, M-Dozer 4, Omnium and the Omnium Leather. In the boots section, there are plenty of exciting arrivals to keep men busy shopping. Men's sizes come from size 7 to size 14, so once again there's one for everyone. The children's section is divided into youth (size 1-7) , children (size 8-13), and toddler (size 4-10). They come in a breath-taking array of colors and patterns and some of the bestsellers are the children's Olowahu, Children's Hurricane3, Youth Tidepool, Youth Olowahu, Children's Toachi 3 and the Children's Jansen Leather. Additionally there are camping gear and Summer Style guides that help you to choose the most lightweight and durable footwear for your trip.

Teva has gone one step further by collaborating with established artists around the world who lend their experience and insight in the design and patterns of the sandals, flip flops, flat forms and wedges to create a true visual treat. Moreover, Teva donates 10% of each purchase to children's art education programs at P.S Arts. Artists like Leah Duncan, Jolby& friends, Emily Hoy, Nadine Marchel and National Forest have lent their names as well as expertise to the footwear that Teva Markets. Teva offers free shipping and free returns in case you are unsatisfied with the quality of your footwear.