Learn More About teabox.com

When it comes to brewing up some exquisite tea, there is perhaps none better than the variety coming out of Darjeeling in India. The aroma, the taste, the colour, and beauty of Darjeeling tea is known all over the world and remains in very high demand. Tea is often always best used when freshly harvested and dried to maintain its true strength However, not everyone can get the best Darjeeling tea – and some of India's other exotic regional varieties – that retains its exquisite properties given the many months it takes for it to reach your local store. This is where TeaBox offers you a unique shortcut to get the best freshest tea – black, green, white and more – to your doorstep within a week of harvest, drying, packing and delivery!
Founded in 2012 in Darjeeling district of West Bengal (India) by tea entrepreneur Kaushal Dugar, TeaBox is the only premium e-commerce tea brand that delivers teas direct from origin to customer. With on-ground presence in the heart of tea producing regions, TeaBox ships the world's freshest teas, chosen by tea experts to customers all over the world within 24-48 hours of production. With a selection of over 150 fresh teas from over 75 different plantations in Darjeeling, Nepal, Assam, Kangra&Nilgiri, TeaBox provides the largest selection of single estate and premium fresh teas online.
Within 4 years of its existence, TeaBox has delivered over 30 million cups of tea to tea lovers in over 90 countries and is still growing!TeaBox ensures all teas are kept in tight storage away from moisture, sunlight, heat, and air to ensure their original flavours are retained for the consumer to enjoy regardless of location! Each product is packed and sent with tremendous care and style to ensure a smile on your face the moment you receive it in person.
You can buy specific tea varieties of your choice from our extensive collection, or you can even sign-up for a monthly subscription in which you get to receive a tea parcel from us every single month and can vary in size, variety, and price per your choosing and tastes. What better way of enjoying the finest teas in the world by yourself and for your family, friends, and guests. You can also browse through our extensive tea accessories to buy with your special teas, like mugs, cups, tea sets, tea makers, brewers, and many other novelty items to give you a full feeling of making the best tea in the world.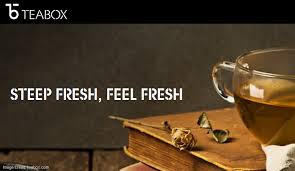 You can even take benefit of our referral system to get your friends or family signed up and you both earn $10 credit as a reward. Want to be a wholesaler? Then you can purchase all our tea varieties in bulk (at least 5 kg) with some very generous discounts.
We also value our customers immensely and are always here to help in whatever way we can regarding our goods and services. You can refer to our extensive FAQs section for better understanding how TeaBox works. Otherwise, do not hesitate to contact us the moment you have an issue or a query, and we will happily facilitate you every time to ensure you are kept satisfied and happy with what we have. You won't get such service anywhere else.
For more, visit our websitehttps://www.teabox.com/