Learn More About tabulizer.com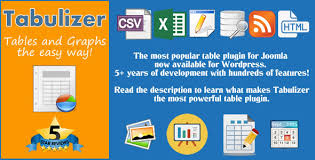 Want your website to look cooler than before? Got a lot of data you'd want to arrange in some neat tables and graphs for everyone to view and comprehend with ease? Presenting the new and improved Tabulizer.
Developed by Estonian company Alterora, Tabulizer is an application that allows you to add tables to your Joomla! or WordPress easily with a consistent feel and look. Tabulizerconverts plain text to CSS styled HTML tables. This could be a huge time saver, especially if you are working a lot with the same type of tables, or if you want to copy table data from other documents, like MS Office programs and Google Document spreadsheet.
Unlike other solutions, Tabulizer does not use a fixed set of table presets or templates, but instead the user can create an unlimited number of templates (aka rulesets), by combining rules that correspond to a particular table or graph feature (e.g. sorting, pagination, styling, etc).You can define your own styles, or use one of the many predefined styles that come with the installation. In any case, you can create your own intelligent styling rules that will format your tables according to your specific needs. Once the styling rules are defined, you can apply them to the creation of any new table just with a single click.
On top of styling rules, you can also do simple data calculations (add, subtract, multiply, etc), statistical operations (min, max, average values, etc), text replacements (find/replace) and cell formatting (e.g. convert to UPPERCASE, format as number or currency, change date format, etc), table to graph conversions and much more!

Want to see how to quickly learn Tabulizer? Visit the Tabulizer website and see some simple, yet very cool, illustrative tutorials and demonstrations on how to use the application when installed on your website administration page. Once you get the hang of it, you need not do anything else. Tables and Graphs become fun rather than a cumbersome task of yore. From table filtering, sorting, and pagination, to table responsive patterns, data manipulation, conversion of tables to graphs, and so much more! Tabulizer is all you need to maintain, modify, and present your data to the world in the most effective, and aesthetically pleasing way.
Just visit the Tabulizer website and download the plugin and purchase it for your website solutions. Those interests can even sign up as Tabulizer affiliates by promoting the software on their websites and blogs. Each purchase can lead to a 20% commission for our affiliates. You can even share your website implementing Tabulizer with us so that we can proudly show the world of this successful and neat app.
See how Tabulizer works on Joomla & WordPress. This video is all you need to understand how the software works and how to quickly master it.https://www.youtube.com/watch?v=GAXk6289gSs
Visit our official website to download Tabulizer and make your website even cooler than ever before:http://tabulizer.com/