Learn More About swap.com

Swap is the biggest consignment store online. They have a sales model that allows owners of items to get a better value for the items they have while also taking the enjoyment and convenience of online shopping and making it better. There aren't items that someone isn't going to want. Their store is all about value and affordability. Buyers who would like to find amazing prices, anywhere from an average of fifty to ninety-five percent off from retail prices, can get that at Swap. In addition, to their goals of providing this affordability and convenience of online shopping to customers, they also have an amazing customer service team as well. The value customers are looking for is what they are going to get at Swap. If any customers or viewers of their site have any questions, they have the workers who are there to help out. They really have been the quickest growing consignment store online that is located inside of the United States. They now have more than three hundred-forty thousand items that are in their inventory too. They began their company during January of 2013 and they run their company from the suburb of Bolingbrook, Illinois and they are even a United States subsidiary for Netcycler which is an internationally based company from Helsinki, Finland. Their Swap Company carries the types of items that everyone is looking for. The types of items they carry include those for babies & children, women, maternity apparel, toys & games, baby gear, books, décor, movies & music, and even sports & outdoors items too. With all of the items that they carry, there is always something for each and every single one of their shoppers. People choose to go to shop at Swap because they can find what they are looking for and they can find things that they want and need at prices that they can afford.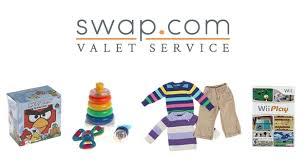 The items that are available from Swap are all in amazing condition and they are things that people are looking for every day, whether that is for themselves or someone else. Some of the many different baby & kids items that shoppers are able to find when they are at Swap include skirts, dresses, sandals, pants, sweatshirts, shorts and more. Some of the women's apparel that can be found at Swap includes blouses, button-down shirts, dresses, pants, polo shirts, sneakers, flip flops and maternity items too. Some of the toys & games that can be purchased on Swap include plush stuffed animals, puzzles, friendship bracelets, toy sets, coloring pages and more. Some of the baby gear items that can be found at Swap include disposable sleeping pants, pull-ups, bath floats, comfort carriers, etc. Customers can also find a variety of books, décor and music & movie items. Last but not least customers can find sports & outdoor items including but not limited to swim trainers, shin protectors, inflatable pools, bike inner tubes, surfboards, inline skates and so much more. As everyone can see, the items that they have really do cover just about everything. Don't miss out on great deals any longer. Everyone has the right to great prices and items they are going to love. The great thing is that everyone can get both of these things and much more when they shop at Swap. Shopping has been so much fun for so many people when they shop at Swat. There is not a better store online that carries such a wide variety of items either. Want to shop for anything that might be needed or wanted? Want to shop at a site that always has amazing prices? Get to Swap today!