Learn More About striderite.com
Stride Rite is a company that sells fashionable footwear for children of all ages. The corporation also sells athletic and casual footwear for both children and adults. Stride Rite was founded in 1919 by Jacob A. Slosberg and Phillip Green in Boston Massachusetts as Green Shoe. In 1966 Green Shoe changed its name to Stride Rite and became a wholesale of footwear in specialty stores, department stores and independent shoe stores. They specialize in providing footwear for toddlers as well as designing shoes for growing children. They maintain the philosophy of making fashionable and comfortable shoes and sandals for children enabling them to easily express themselves.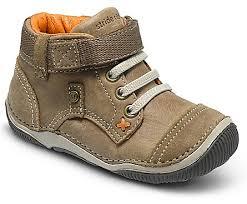 Stride Rite team also efficiently check test all the shoes before selling to ensure that they are durable enough to allow a kid to play with the shoes. Stride Rite launched the stride rite e-commerce website known as striderite.com to enable customers to easily get their products. This move marked Stride Rite as an international company enabling it to join with other companies such as collective brands Inc. the success of this corporation enabled it to be recognized worldwide causing the company to be termed as the company of the year by Earnshaw.s magazine. Through innovation, understanding their customers and constant upgrading of their footwear has enabled Stride Right to make shoes that fit a wide range of children ages. Shop on the stride rite website and purchase shoes for children who are still taking wobbly steps as well as for those who are constantly playing on the mud puddles. Parents who purchase these shoes have less to worry about the condition of the shoes when the children are playing. Need back to school shoes? Shop at striderite.com to get durable school shoes after which the stride rite team will give back 10% to schools that participate in the stride@school promotion.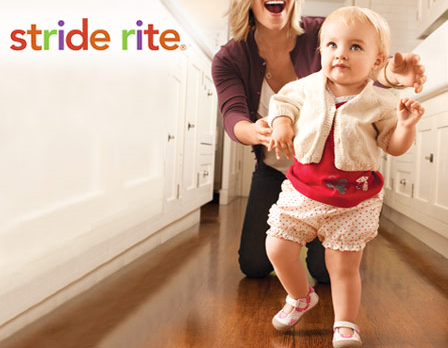 Customers who have trouble finding the perfect shoe size have the option of sending a gift card instead. This gifts cards are available in the stride.com and can only be redeemed online. Purchase the gift cards in any denominations after which Stride Rite won't charge any sales tax. The gift cards will then be shipped to the specified location within 7 days. In case of a return, the Stride Rite Company accepts any exchanges within a period of 45days from the date of purchase as long as the buyer has the original receipt. Purchase multiple items on striderite.com and receive purchase discount from the buy one get one promotion. In case of a wrong order, the customer service team is available to correct the error as fast possible either through email or by calling them. Subscribe to the Stride Rite website and immediately receive newsletters with the latest arrivals, special offers and promotions. Join stride Rite reward program and receive $10 discount on every purchase worth $75 and above. In addition, the reward program makes it easy to make private sales and get rewarded with free shipping. Need help finding a specific size or shoe style? Stride Rite website makes it easy to order a particular shoe type and have it delivered free of charge. Stay updated on clearance sales, promotions, new arrival and discounts on products by connecting with Stride Right on their various social sites such as Youtube, twitter, Facebook and Instagram.