Expiring Square Enix Coupons . Good luck!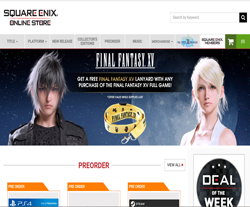 Visit square-enix-games.com
Related Categories
Square Enix website view
Founded in 1975, The Square Enix Group publishes, distributes and licenses entertainment content around the world under its internationally renowned brands including SQUARE ENIX, EIDOS and TAITO. The Square Enix Group is promoting businesses in the four domains of digital entertainment, amusement, publication and Merchandising. As for digital entertainment, The Square Enix Group plans, develops, distributes and operates Digital Entertainment content primarily in the form of games. There are many new and fresh game products on this site to feast your eyes, taking you into a fantasy world.