Learn More About americanapparel.com

If you stay in America, then you might be quite familiar with the famous brand American Apparel. The brand is based out of the United States of America and deals in both retail and whole sale products. The company deals in products for men, women and kids and the products are specially manufactured in Los Angeles in terms of design, cut and sewing. The headquarters and the factory of the American Apparel company are located in Downtown, Los Angeles, with a massive factory size of 1.5 million square feet manufacturing space. The space is equivalent to 26 American football fields. Just imagine how massive it is? They employ a total of 4600 skilled employees and target to manufacture 90,000 t-shirts per day, which they complete in a whole day time. The denim factory of the company manufactures a total of 1000 jeans per day. Their technology and craftsmanship is so fast that a normal regular t-shirt takes around 15 seconds to sew and two quality checks by the supervisor to be declared just perfect to be sent to the retailer. The manufacturing, retailing and distribution is done under the same roof, which makes work a lot more easier. The company's reports suggest that American Apparel's garment workers are the highest paid workers in the world, when compared to other workers working in this genre. They earn an estimated value of 30000 dollars per year with incentives including healthcare.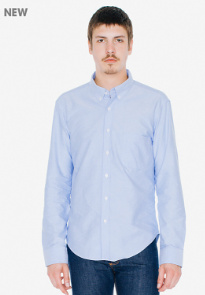 The company boasts of having a smaller carbon footprint than other competitors in this genre. The company claims to recycle all of their manufacturing wastes, an average of 25,000 lbs of paper and 1,25,000 lbs of textile, cardboard and plastic per week (over 260 semi-truck loads per year). They are not only committed to manufacturing and distributing clothing, but are also deeply inclined towards noble causes like immigration reforms and LGBTQ rights. The company in the year 2015, diligently fought with human rights commission in California Community Foundation to bring about real change. Now talking about other services provided by the company, the brand hosts its webpage in eight different languages, which gives you the additional benefit to shop as much as you can. In terms of shopping more, they offer exclusive discounts on site. If you are a student, you get an additional discount of 25 percent on the product value, and that's a lot more. All you have to do is register and verify your student status with UNiDAYS. They also have a good shipping policy. They provide free shipping on all orders above dollar 50 and in case you do not like a product or want to swap the product due to any other reason, they give you free return services. From accessories, active wear, basics, denims, dresses, jackets to lingerie, you can buy anything you want to at an affordable range that won't burn your pocket. If you are a dealer, you can also buy your stuff in wholesale. The option is available on the website itself.