Learn More About star-registration.com
Star Registration is a unique service for people who appreciate the stars in the sky and want to reach for them someday! Offering a service called Star Naming, it is about naming a star, which could be an existing name, an invented one or an inspired name. Any name is possible, and the company records these star names in their registry. Once named, a star name has lifetime validity. Star namers do not incur additional costs. To name a star, customers are solicited to provide certain details to Star Registration. Post-this, all data is recorded in the registry. Customers get the coordinate information of their selected stars. A star chart is prepared with the correct coordinates. This is followed by issuance of a star certificate.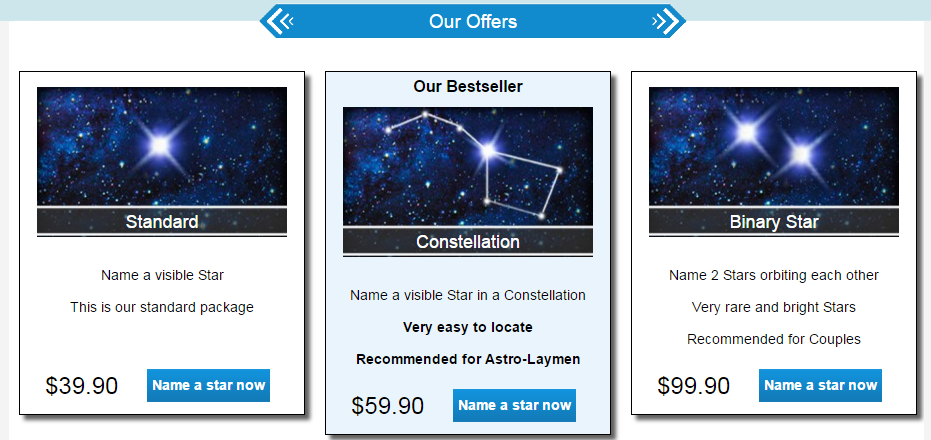 The company issues certificates that are indeed studded in a starry background. The names of the star namers are portrayed in bold font. Explicit details of the registered star along with its coordinates are printed on the certificate. Not to mention the highlight of the certificate – the articulate wording dedicated to the star namers that warm the heart and serve as a lasting testimony. Once a star is named it stays in the registry for an unlimited period of time. So it is an interesting and heart-warming way to gift a loved one a piece of the universe. All stars that are worthy to be named are all the stars that can be seen. Of course there are gazillions of stars; some of them snuggled far in the universe, away from even the lens of the most powerful telescopes. But Star Registration allows naming of only visible stars.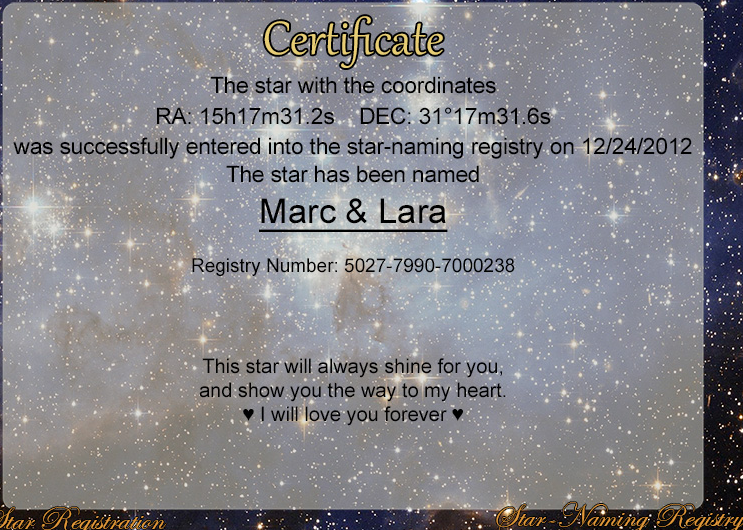 A star chart is prepared by the company that helps to locate the star effortlessly. Star chart users can use the star chart to orient themselves in the right position. Within seconds they can spot their stars in the night sky. It is a nice feeling to be stared down by a star that is a constant companion throughout the night and throughout one's lifetime. Stars are forever.
The company lines up a slew of offers for star gazers and lovers of the night sky. Offers include discounts for naming a star along with getting a personalized star based on individual requirements. Star naming enthusiasts can choose the brightness of the star they want printed on the certificate, customize the wording on the certificate, order multiple copies of the certificate, and also have an aluminum frame over the star certificate. It is an opportunity to perch the star certificate atop the living room shelf. An ode to individualistic pride. An effort to don the colors of romantic love against the backdrop of stars. A fitting gift for a loved one.
Like any good company, Star Registration provides 100% money back guarantee. If a purchaser is not satisfied with a star, there is no need to worry. The company simply refunds; even the shipping cost!