Learn More About staples.com
Staples is an American office supply group, with more than 2000 store around the globe in more than 20 countries. It was founded in May 1986, Brighton, Massachusetts, United States by Leo Kahn and Thomas G. Stemberg and opened their first store. Staples sells many supplies such as office machines, furniture, staples, technology and many services both online and in store. Staples has also some business with companies in the United States, Canada and some of the European countries.

Staples offers many ways to shop. Customers can find a local store near to them by checking out Company'"Find a store"feature, shop on their website, download their mobile app. Customers can find what they need, order it and wait for it to be shipped to them. They can also return the items for free if they don't like it. Staples offers many ways to save the money while shopping, customers can check out their adds, get updated about their daily deals, get coupons or even join their free rewards program and get 5% off and free shipping if the order is over 14.99$.
Customers can apply the rewards program for free and choose an offer. The company is quite frequent with their bonus and discount schemes and come up with new offerings every other day. In addition to those, with the Plus offer (valid lifetime) you can get 25$ worth of copy and print services for free and EasyTech diagnostics. Premier offers you 20$ for every one year of Tech Support, and more bonus events.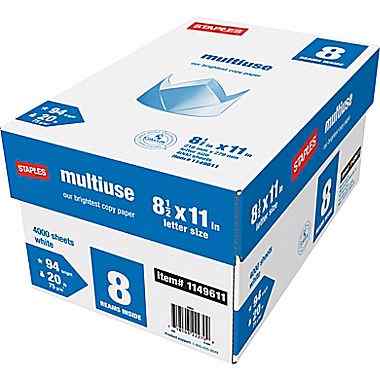 Buying items on Staples is really easy, customers can make a search for items or shop by category. The customers can find many office supplies such as notebooks, notepads, paper, calendars, planners, writing supplies and many others. They can also purchase electronics including phones, tablets, computers and laptops, software, and Apple products, you can also find gaming items or shop by brand. Furniture is also available on the website, including desks, chairs, carts, also mats, décor, lamps and some special collections. Cleaning tools and items can also be purchasable on their website, even laundry products, and supplies. Food, snacks, coffee and many drinks are also available. The company can also furnish the break-room with many goods and cleaning supplies such as hand soaps and sanitizers. Many other tools are also available, such as shipping boxes, tape, bubble rolls, envelopes, and mailing tubes. Alongside with that, customers can also purchase stamps, banners, postcards, and business cards that are designed and manufactured on customer requirements. Don't forget to check out their daily deals and weekly add to get more items for lower prices. The customers looking for ink and toners, Staples will provide that. All they have to do is look through the printer brands, series and models and get items that fit in theirs. They have many known brands such as Canon, Epson, HP, Dell, Samsung, and Brother. Customers can track their order and be sure that it will arrive on time. If customers need any help or want to return an item, Staples offer their customer services every day, every time.