Learn More About smartfares.com
SmartFares is a travel planner website where travelers can plan and book for a multi-city overseas tour. The travel company has over 10 years experience in serving a worldwide clientele and the numbers (of customers) are still growing. Headquartered at San Diego, CA, the company aims to provide the best discounts from its huge repertoire of travel options. The company conducts considerable research before planning their offers, so they can provide the best service to its customers. They can also come up with offers that would be useful and helpful to the constant traveler.

The travel reservation service promises its customers round the clock service 365 days a year. The company offers services in more than 600 call centers around the world. Travelers looking for best deals from around the world can get in touch with the representatives at the company and go through convenient deals with their assistance. The company also helps in charting travel routes and planning trips with the budget of the traveler in mind. The company houses a diligent team of experienced professionals that can assist the traveler in choosing a deal that would save him time and money. SmartFares concentrates on giving memorable vacations to the diligent traveler. Smart Fares makes it easy for their regular customers to get hold of cinching deals!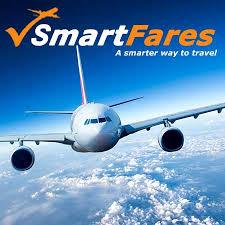 Customer service is one of the basic and most important services offered by SmartFares. Apart from providing the best rates for its customers, the company also makes sure each customer gets excellent service from its staff and representatives. The traveler can access the quick links placed within the website to get to what they want. It could be information on weekend travel, business travel, international and domestic travel, cruises and even emergency trips. The main highlight of the services at SmartFares is that the traveler can make use of special offers on more than 500 airlines. This is possible through Global Distribution System (GDS), in order to help people get information about airlines offering discount rates. Additionally, there is unique pricing and destination combination that customers can use depending on their convenience and time. The company has call centers in all the major destinations, so if a customer wants to get in touch with any of the representatives while traveling in a particular destination, that is also easily possible. SmartFares has an alluring website that contains easy information about travel and booking flight tickets. There is sufficient information on hotel and car rentals as well and it leads to different website where they can book. Customers can cancel their tickets and they won't be charged anything if it is done within 12 hours of booking.Check out the latest discounts and offers at SmartFares at their website or subscribe to their social media sites. You can visit them at Facebook, Twitter, Pinterest, Google+, Instagram and YouTube. A customer can connect with the company through these social sites and be the first to know about their latest offers, new destinations and whopping discounts that they offer from time to time.