Learn More About sleepys.com

Sleepy's is a mattress company with a long history. It was founded in 1931 in Brooklyn, New York. Now it has more than 1000 stores, and offers the possibility of online and phone shopping too. At first named Bedding Discount Center, the company was founded by Louis Acker and his son Harry. They changed the name to Sleepy's in 1975, and opened a whopping eight stores by 1977. Since then they only grew more and more, and now employ more than 2900 people. Sleepy's sells all kinds of mattresses, and will undoubtedly indulge your needs and desires. Their catalogue is enormous, and consists of soft and firm mattresses, various kinds of pillows, beds and bedsheets, furniture and home items, and many other related products. Sleepy's is a family owned company for 4 generations already, and they pride themselves in the professional attitude that separates them from others. They operate in a large number of stores and are America's largest specialized mattress store chain, but utilize modern technology too, and sell their products online and by phone.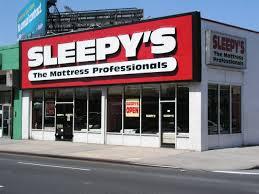 Their website's setup is easy to use and you will find no difficulties while setting up an account and ordering their products. You will be able to check out the nearest store from where you live too, if you prefer to shop that way. If you decide to buy Sleepy's products online, all you need to do is register for an account, verify the method of payment and place an order on one of their many products. You can get a specialized Sleepy's credit card too, it will make mattress shopping a much more convenient experience. In addition to getting their credit card you can pay with Visa, Master Card, American Express, Pay Pall and other secure channels for online shopping. You can browse their products by many different categories. If you already have a brand you trust you can see all the items Sleepy's have in offer which carry that name. If you prefer to categorize mattresses by their properties you can too, and choose between luxury, firm, foam, memory, or soft mattresses, and also queen beds, beds in a box, and other kinds. When you do decide on what you want to buy all you need to do is place your order in a virtual shopping bag and click a button. Delivery times vary from state to state, and can take from few days to a few weeks if you live in places remote from one of their stores. You can trace the order at all times, and when your package comes to their delivery agent he will give you a call and inform you it will arrive to your home shortly. Besides mattresses and pillows you can order furniture, actual beds and futons, and various kind of bedding accessories. Sleepy's have everything you would ever need to ensure you and your family enjoys healthy and enjoyable sleep, and all of it is available to you with a single click of a button.