Learn More About safariland.com

For fifty years, Safariland Group, the United States-based company that has a rich heritage in law enforcement and sporting markets. Safariland designs and manufactures a broad range of equipment for the defense sector, including equipment for military, sporting, law enforcement, investigation for the public safety personnel. Founded in California in 1964 initially, Neale Perkins made a custom Holster for his father. Neale named his new company after the African safaris and in less than a few months, Neale's company made over five thousand holsters. In 1996, when Armor Holdings acquired many law equipment brands, Safariland among others, adding significant additional growth in terms of locations and planning. Although Safariland manufactures a wide range of law enforcement products, not all are listed under Safariland's brand name, as the other products came under Armor Holdings brand. Safariland designs and manufactures among many others, holsters, duty gears and restraints. All of Safariland's products are under major categories, namely Holsters and Gears, Body Armor, Forensics, Body worn Cameras, Comms and hearing protection, less lethal and a broad range of accessories, cleaning kits and others. All for one mission, that is, together, we save lives, which according to Safariland, is more than just a statement.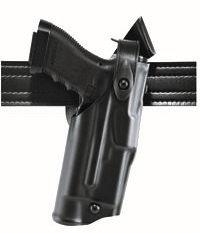 The range of Holsters and Gears includes duty holsters, the concealable holsters, competition holsters, sporting holsters, tactical and military holsters, belt slide holsters, cowboy and western holsters, Kenda Lenseigne Signature products and leather holsters. Among other merchandising including performance t-shirts, polo shirts, caps, decals, long sleeve shirts, tumblers, Be Fast, Be Accurate book, coffee cups, coaster sets, lapel pins, etc. for both men and women are available on the website. Along with a sophisticated web site and secure payment system, Safariland also markets Body Armor. They come in selected categories including Hyperx that involves an integrated ballistic panel, the concealable covert carrier that includes the various degree of ballistic panels, external and overt carriers, pouches, tactical accessories, canine armors, with the various styles of overts, pockets, and carriers for law enforcement equipment. The tactical carriers include vests, soft armor panels, helmets, plates, ballistic shields, and more. Across a broad range of products that are thoroughly tested and are time and again proven as the most secure and number one security equipment for the defense sector, Safariland sets the standard for innovation and quality impeccably. The world's most toughest cameras are designed and manufactured by Safariland. Supported on the Microsoft Azure environment, including complete service solutions, complete hardware, software and local or cloud storage. Also, Safariland specializes in the Forensics equipment. Let it be field testing, scene protection, documentation for the crime scene, the collection of evidence, the packaging of evidence, light sources, lab equipment, magnifiers educational supply, ballistics and trajectories, storage cases and equipment, safety gears, tools and instruments and other forensic equipment. In the forensic equipments, it has flashlights, test kits, collections, apparel, bags boxes, tags, labels, tapes, print reagents, chemicals, powders, lifters, stands, enhancers, pads, and cards. Safariland specializes in Comms and hearing protection equipment and includes headsets, push to talk assemblies, speaker microphone handsets, hearing protection, replacement parts, and antenna relocation. In Hearing equipments, Safariland includes various body headsets, single radio, dual radio, electronic hearing protection, passive hearing protection, adapters, helmets, ear pieces, storage bags, cables, replacement parts, hygiene kits,and other merchandise. Truly, Safariland is doing everything to save lives and bring the best defense equipment to the protectors.