Learn More About roamans.com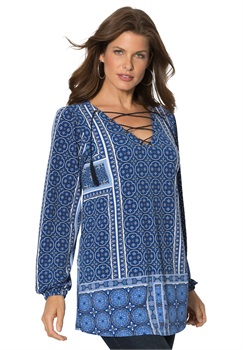 If you wear plus sized clothes, you know the struggle which you face every time while buying new clothes. There are hardly any online stores that cater specially to extra large clothes, especially for women. The existing cloth stores have outdated fashion for plus sized people and they never get to wear the clothes of latest trends. Roaman's is a clothes brand that has been a leader in offering the exquisite range for women who need plus size clothing since more than 100 years. It believes that its success as a brand has been possible because of its buyers who travel the world for the latest trends in the clothing for the plus size women.Roaman's designs the clothes that are tailor made to a fit that flatters the curves and creates an irresistible silhouette.
Irrespective of the occasion, whether you wish to dress up or dress down, you can find the desired plus size clothing options that are not only feminine but will also accentuate your confident. The vast selection of theRoaman's includes plus sized occasion based tees, dresses, suits, tunics, outerwear and the modern denim styles.
In order to help you get the complete look from head to toe, Roaman's not only has a wide range of apparels but also has the wide width shoes to sizes of width as much as 13WW. Further, to complete the look, Roaman's has a beautiful range of accessories like the glamorous jewelry and the luxury bags. Moreover, Roaman's does not want you to look beautiful on the outside but also wishes to make you feel good on the insides. To make you feel beautiful underneath, Roaman's has a huge variety of intimates including bras to size as high as 56 J.
Once you browse through the site, you will be astonished to see such a wide range of clothes specially made for plus sized women. Over the years, the company has brilliantly executed on its mission which is to empower plus sized women with style, confidence and beauty through great fashion choices and a wide range. Not only this but the company wants to build a community of such women who buy clothes from here.
Whenever there is a clearance sale active on the site, you should make the most out of it. Almost all the products have huge discounts and there are deals that you just can't ignore. So, before making a purchasing decision, make sure that you checkout the clearance sale on Roaman's.
The company focuses a lot on modern fashion and updates its collection based on the latest fashion trends. While keeping the comfort levels at maximum, fashion is never compromised in any clothes by Roaman's.
All you plus size women, who are on a lookout for the plus size clothing can reach out to the web portal of Roaman's and find the desired clothing, footwear and accessory to just get the look right. We are indeed certain that the collection of the Roaman's will indeed interest you a lot!