Learn More About ritani.com
Ritani is a luxury jewelry brand that specializes in provision of fine jewelry and engagement rings. Ritani was established in 1999 as a family business by a family that had a great background in jewelry. Ritani jewelry is known for its custom-made diamond engagement rings fine jewelry and loose diamonds. Ritani jewelry works with the philosophy of creating a network of trusted local jewelers to create some kind of a huge chain that start from this 'main' shop and flows to the local jewelers. This makes it possible for Ritani to get access to numerous regions and target markets through the local jewelers.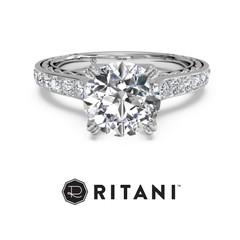 Ritani specializes in bridal rings and engagement rings. This company is based in White Plains, New York and operates e-commerce operations in Seattle. Ritani was initially a wholesaler jewelry brand but has since ventured into e-commerce trade. Ritani launched its online trade website in October 2012 to capitalize on the online business. Ritani has since combined physical selling with online selling. The website enables you to design a custom engagement or wedding ring online. Ritani in turn ships the ring to the jeweler near you where you visit the local jeweler to preview your custom ring. The combination of in-person and online selling makes this jeweler stand out and become a major player in the industry dominated by the likes of James Allen, Blue Nile Inc. and Tiffany & Co. cantor Fitzgerald, Ritani's chief investor, invested a whopping $15 million in this company following the sale of stake by Julius Klein Group.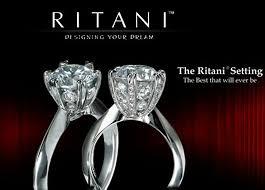 Year 2014 was a great year for Ritani after former Blue Nile CEO, Diane Irvine joined the board of directors at Ritani in the month of June. Before then, the year had started with much joy after the Forbes selected Ritani as the America's Most Promising Companies due to their "clicks and bricks" model of combining personal selling and online selling. Ritani has grown to become a huge network with over 180 stores in the US and Canada. Clicks and bricks is there to guide the customers during the ring designing period and then it helps to create trust with a free in-store preview of the designed ring. Ritani operates with an inventory of about 60,000 diamonds priced between $184 and $1.7 million.Since when this store was opened, it has still retains the zeal and workmanship they had when they opened up. Ritani jewelry is distributed worldwide. You can get this fine jewelry wherever you are in the world without travelling far. All you have to do is walk to the jeweler near you and get access to wedding rings and engagement rings from Ritani. Ritani jewelry is the brand behind the success and popularity of Halo engagement rings. Halo engagement rings are some of the most popular and loved engagement rings in the world. There are other signature rings such as Ritani that are designed and marketed by Ritani. The fact that you can view your ring even before you buy it makes it very advantageous to shop at Ritani.