Learn More About rhs.org.uk

The Royal Horticulture Society Flower Show, Tatton Park is a gardening extravaganza that takes place annually in a vibrant carnival atmosphere generally in the month of July. This show is organized in 28 acre magnificent Tatton Park in Cheshire. It is a great day-out and it's not only for plant lovers but also for family and friends. The show has a country flavor with an upmarket twist. The first show was organised in the year 1999 and now it has gathered acclaim for itself for the past 17 years. It houses the Flower Bed Competition, Young Designer for the Year and a multitude of inspirational show gardens, smaller 'Back to Back' gardens, futuristic gardens and a number of marquees displaying exquisite plants and beautiful floral exhibits. Other significant features of the show are the floral marquee, plant plaza, the arts and heritage pavilion, and the floral design hub. The popular back to back gardens in the grow zone will give you striking ideas for transforming smaller spaces, whereas the young designers showcase their innovative ideas in the inspire zone. You can also get expert advice and workshops with great floral designs and some real good food. The show gardens will give you ample ideas to use and beautify your front garden space. The RHS flower show is known for bringing in new and fresh ideas. Therefore, continuing the tradition in the year 2016 also, they have introduced two new categories RHS Young Landscaper of the Year and RHS Young Plants Person of the Year. Besides this, you can also buy new plants from the Floral Marquee and the Plant Village. There will be as many as 100 specialist nurseries and plant breeders who will be putting up glorious and colorful displays, that will be available for sale so that you too can create some gardening magic in your own private space. Besides all this, there will be fun activities for the children, talk theatres, blooming beds, garden hideaways, bandstand hosting entertainment, a vineyard dedicated to tastings, floristry and floral art competitions and practical and inspirational shopping. In the year 2016, Bruntwood is the headline sponsor of RHS Flower Show. They believe in adding value to the places and making them better. They also wish to foster partnerships with organizations like RHS that indulge in activities to enrich people's lives and local communities. Besides the Flower Show, RHS is also involved in education and learning programs, qualification and training and apprenticeships related to gardening and horticulture.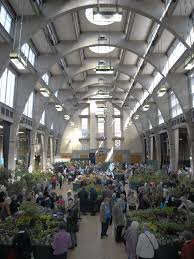 The tickets for the show can be bought online (rhs.org.uk/tatton) in advance at a discounted rate. They are also available at the gate for full price once the show begins. The members of RHS get an additional discount on tickets bought online or at the gate. All these years, RHS has been doing wonderful work by making the surroundings green and beautiful with vibrant gardens. They are also enriching people's lives by getting involved in initiatives like RHS Campaign for School Gardening, Britain in Bloom with the RHS, National Gardening Week, Wild About Gardens and RHS Greening Grey Britain. You can also be a part of this wonderful organization by donating generously and becoming an RHS fellow. Besides, RHS Fellows also enjoy being part of a number of annual events that bring them closer to RHS.