Learn More About revivalanimal.com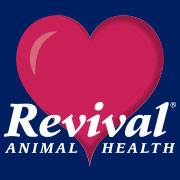 Revival Animal Health is an online retail that deals in pet supplies, vaccines and medications for pets. The brand gets its name through its extensive line of pet healthcare products. Pets are man's best friends and require basic care the way humans are brought up with affection. People who love pets surely take good care of them. Revival Animal Health helps you understand that a pet is not mere domestic animal for companionship but a family member. Apart from a friendly and homely environment, you can give your pet a happy and healthy life with the help of Revival Animal Health Pet Care that gives basic supplies and products for dogs, cats, birds, fishes, rodents and other animals along with items related to training and grooming, vaccinations and much more that help you learn more about them.
Founded in 1989 by Dr. Roy Nielsen, Jr., known as "Doc Roy," Revival Animal Health became a venture out of Doc Roy's second career aspirations. Aiming to be a complete and trusted source of vaccines for pet breeders, Doc believed it to be a revival for himself since he served as a veterinarian throughout his life, caring for animals. Since then, Revival Animal Health has expanded into a company from pet vaccines provider that now also offers an extensive range of pet healthcare products. If you are a breeder or pet care professional or just an owner of pet, Revival Animal Health has everything you would require for taking the best care of your pet. Leading growth for years, the company could also have a cage-bird division.

Revival Animal Health has been one of the renowned experts on pet care and leading source for pet supplies online. Health supplies for dogs, cats and other animals on top of that it also brings to you an online pharmacy for prescription pet meds. Revival ensures great products at great prices thereby creating value through great service. Serving from heartland, it offers pet products for dental care, eye care, ear care, arthritis, pregnancy, toys and treat, grooming supplies, test kits, vitamins & supplements, bedding, behaviors & training, medications, vaccines, de-wormers and much more. For over 25 years, Revival Animal Health has been caring for people who care for pets thus delivering reliable products with highest quality, being committed to your needs. You can also find the hidden owners or breeder in you and count on Revival because it too loves pets. The company is also keen to provide the knowledge, understanding and genuine care which is required to keep the animals happy and healthy. Revival believes in serving you with pet care from the heart.
At Revival, find all the dog supplies, cat supplies, vaccinations, medications and more that you need for optimal canine health. From milk replacers to vaccines, it has got the best health solution for your pets.
Easy litter control options and medications to remove worm right from Revival can give your pet a healthy start. Keep your love for pets alive and give them a way to lead a healthy life!