Learn More About rallyhouse.com
Rally House is online sports boutique located in the Midwest, South and Northeast. They offer a wide range of sports apparel, many gifts, and even food. Items they offer are for loyal fans of NCAA, NFL, MLB, NBA, NHL and MLS teams. Their customer can find the great colorful jersey for their favorite team and even rivals in order to express their enthusiasm about the team on games. Of course, the match isn't the only event where they can wear these things, but in everyday occasions in order to show love for their favorite players.

Rally House's merchandise is not only for fans but also for professional teams which are their loyal customers. With great collections which are distinctly and vibrant with colors which represent their winning spirit, they are a recognizable brand from even 1990 where it was founded by Peg and Tim. In its beginning, this couple opened five stores located in the Kansas City, and their son Aaron Liebert continued this tradition, beginning in the 2000s as the CEO. In 2009, they changed the name of their store into Rally House but definitely didn't change main values of their philosophy- quality and professionalism. Quality products and pleasant staff make every visit to their store a great journey, regardless is it directly in local stores or online. Because of this, every their customer is a returning one and they can't complain about their service. Do you adore sport? Is your favorite sports team important to you and you consider yourself to be a passionate fan? If you answered Yes to these questions, Rally House is just the place you need. They offer you a wide range of accessories, such as posters with symbols of someone's favorite team, money clips, cufflinks and all this with a possibility to search for specific dimensions, color, and price that suits your needs the most. This is provided by a link on the left side of the page, but here you can also buy bedroom and bathroom accessories which will give your house personal touch, flags and banners, along with drinkware and kitchen accessories. The unique design of their products and affordable price are just what makes them a recognizable brand.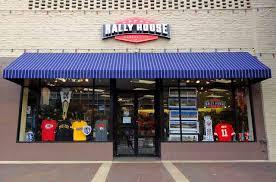 You can buy products which symbolize teams from acknowledged colleges, such as Alabama Crimson Tide, Clemson Tigers, Dyton Flyers, Florida Gators, LSU Tigers, Oregon Ducks, SMU Mustangs, Temple Owis, Villanova Wildcats, Texas Longhorns, and Missouri Tigers. Also, on top of their page, you can check products if you are a fan of NFC and AFC teams, or maybe MLB, MLS, NHL, NBA are your favorites. Also, you have section Local where you can get your gift cards, or choose other interest such as Beers& Breveries, KC BBQ, Team USA and much more. You can search your new item by state or city and this just makes it easy for you since their website is so easy to navigate. Any products you like are just one click away and after that, just choose the color, size, add it to a shopping bag and even share it on social networks. Be sure not to miss out on their great collection which is increasing day by day. Do you enjoy in having quality products which enable you to show love for your team? In the answer to this question is yes, be sure not to lose any more time and explore what they have to offer you.