Learn More About prizerebel.com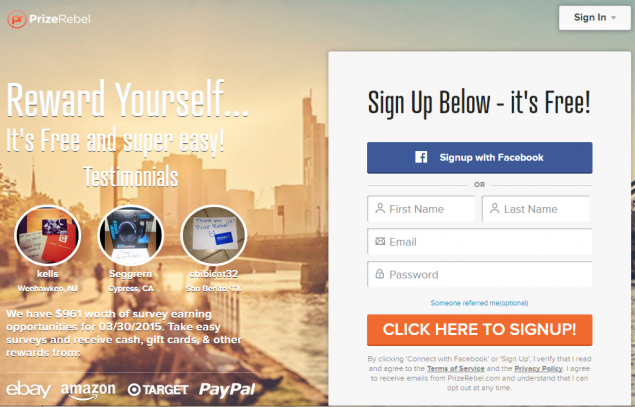 If you would want to earn rewards for simply taking part in certain online activities then Prize Rebel is an online platform that was made just for you. Ever since it was established back in 2007, Prize Rebel has been able to hand out a total of $7 million to its members who as at now are at 5.5 million. The online activities that you can expect to take part in if you choose to engage with prize Rebel include watching videos online, taking part in a number of surveys, referring other people as well as signing up for certain product or service trials just to mention a few. So how does it all work you my ask, well it's pretty simple one thing that you should note is that given that the whole reward is based on online activities then you will have to make sure that you have an internet connection. Just like any other survey site that is currently out there, Prize Rebel has an age restriction and it is 18 years of age. Before you can be able to take part on their surveys you will have to prove that you are indeed above 18 years of age. You might chose to engage with if you are around the ages of 13 and 18 in an event that your parent as approved. One thing about Prize Rebel that has made them a favorite with many is the fact that they do offer a number of bonuses. For instance, if you were to sign up or create an account with Prize Rebel you will get to receive bonuses immediately. One thing to note about Prize Rebel is that they have put in place plenty of measures so as to ensure that you as their member find it very easy navigating through their site. For instance, immediately you sign up, you will be informed by the team at Prize Rebel of the best browser which you can use so as to get the best from their services. Additionally, they do have a video, sought of like a tour that will help you in familiarizing with their platform as well as how you can be able to benefit from it.
Earning points is the main reason as to why one should want to join Prize Rebel as this is how you will be able to receive money. In other words, the more points you have the more rewards you get. But how does one earn this points you might ask. Well, earning points with Rebel Prize is very straightforward all you have to do is imply maneuver your way to the "Earn" link and here you will be able to have access to a variety of offers, videos as well as surveys. One thing that you should regarding this particular step is that each and every link corresponds to different ways for you to earn points. For instance, you can end up earning one point after liking their Facebook page or even 30 points for registering for a certain program being offered by a particular company or even 45 points for taking part on a certain poll. For more details regarding Prize Rebel and what they actually do make sure that you get to visit their online platform as they have all the information that you might need there. Alternatively, you could chose to contact their support who will help you with any question that you might have regarding Prize Rebel.