Learn More About printvenue.com

If it is too difficult for you to express your emotions verbally, then you should take the help of the personalised gift items to express them. Say your special message by using the printing techniques on any of the 500+ products available at Printvenue and bring a smile on the face of the receiver. Personalised gift help create memory and attach emotions to them. Every occasion needs a special gift to commensurate it, and when you add a touch of your own feelings and emotions to it and get it personalized, it becomes more special and valuable. But getting personalized prints is often a matter of great concern and affordability to many. To bring an end to this problem, Printvenue was launched, it is an online portal that deals in providing amazing printing solutions and personalizing products. They are the leading name and India's largest online portal mingling exclusively in personalizing items for everyday use and special occasions. In the web portal of the company, one can see the long list of products that they customise, and get the most pocket-friendly quote for items the user wants to personalize. For every occasion, from birthdays to parties to graduation ceremony to team events to marriage, anniversaries or festivals, Printvenue excels in creating unique and innovative personalised items for every occasion. If the user does not know which items they should get personalised for their loved ones, then they can scroll down the page of the online portal and glance through the long list of product categories that Printvenue excels in personalizing. Mobile cases, laptop skins, key chains, address labels, bags, business cards, calendar, card holder, envelopes, cushions, t-shirt, mugs, greeting cards, notepads, wine box, wallets, letter heads, invitations are just a few names from the vast list of product categories that they customise. To know more, simply check the home page of online portal. Printvenue also hosts sale from time to time where the users can save money by getting personalised items at low prices. After every few days, new deals are added in the sale section and all the information about the latest offers and savings is flashed on the front of home page in rotating slides. It makes shopping in 'sale season' a lot easier as you don't have to jump from one page to another to search for saving offers.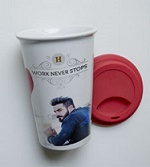 The homepage is neatly organised into various categories of products and the customer can quickly navigate and reach their desired product and place the order. Printvenue boasts of 500+ products to choose from and each order is handled by expert craftsmen working with latest upgraded technology to come up with perfect personalised products every time. Irrespective of whether you place a single order or bulk, each piece will be delivered in pristine condition and will ensure your satisfaction. They always strive to deliver quality products beyond the expectations of the clients. Order could be placed anytime as they remain active 24*7 to cater to your needs. And getting customised products could be done in 2 easy steps. Further for all the creative customers, Printvenue gives them a chance to see their innovation printed on product of their choice and that too without any additional charges. Making payment in Printvenue is completely safe and secured. Your credentials are not revealed and all your details are completely safe. The user has options of payment through their debit/credit card, Paypal, internet banking, and Cash on Delivery option is also available. You can check the product and then pay if you are satisfied with it. Make your office and home more personalised with valuable addition of customised items from Printvenue. Printvenue also gives the convenience of tracking order to know its whereabouts and this feature is especially helpful when you are sending a special personalised gift to your loved ones living far away. The user can be sure that good will be delivered on time and at the correct place.