Learn More About printglobe.com

Print Globe aims at providing its customers with best selection of printing products and services online. Print Globe provides one of the best customers service by collaborating with the best and most well reputed companies. They continuously strive to improve their services and meet their goals. They suggest their customers with best solutions keeping their budget and requirements in mind. They never fail to deliver the most competitive and outstanding services. Print Globe was originally known as the Corporate Communication of Austin. It did not take Dan Steinborn, a longtime ink devotee a long time to realize the future of his company when he first started it as a small graphic design and printing company for the business community in Austin, TX.
Today Print Globe not only serves the business community but also any other individual or organization. Customers can instantly quote, design as well as order a wide range of graphic and printing products. Print globe also has a wide range of promotional products available on their website. The collection is so large that these are further classified into various categories which include automotive products, bags and totes, pens and writing instruments, corporate gifts, napkins and many more.
The most popular categories in their business printing products and services include custom decals and stickers, checks, labels, custom business cards, door hangers, pocket and presentation folders and custom envelope printing. You will also find on their website, a large variety of banners, Yard and Site Signs, Flags and other kinds of signs and banners. Print Globe has their staff of extremely talented graphic design professionals ready to assist you in your design projects. They offer logo designs, Web Design and eMarketing services, ID Packages and Print Collateral.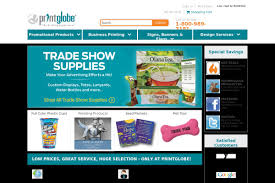 They also list special deals, clearance items and other discount deals on their website from time to time. They regularly post about hot deals so you must sign up for an account on their website to keep informed and track and manage your orders. Print Globe has a never ending list of satisfied customers which include Google, PetSmart, GAP, Harvard University and many other large corporates. The testimonials listed on their website reflect how much Print Globe has succeeded in gaining the trust and loyalty of their customers.
Print Globe also takes volume orders which cost over 5000$. Such orders are to be made by filling a separate form. These orders prove very economical for buyers and save them a good sum of money. You can read interesting information about Print Globe products on their online blog. The post valuable information about graphics and printing and reader can benefit a lot from these articles. You can also sign up for the Print Globe Newsletter to get regular updates about the products and services as well as deals and discounts directly to your email address. Print Globe also have a reseller program and if you want to work with them they will take pride in being your wholesale printing vendor. You can register with them following a simple process mentioned on their website.