Expiring Pressure Washers Direct Promo Codes . Good luck!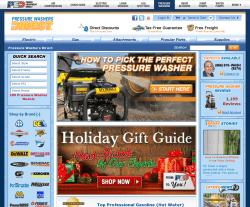 Visit pressurewashersdirect.com
Related Categories
Pressure Washers Direct website view
This website has the best self description I have seen: "Power Equipment Direct was first conceived by Jon Hoch, the company's founder, after an awful experience shopping for a lawnmower in 2002." He apparently attempted to buy a lawnmower, could not get help at the first store, went to another where it was sold out, and went to a neighboring town where they had just sold the last one. Hoch had to order it online, and paid exorbitant amounts of shipping to get it delivered to his house ¨Cafter which he chose to start his own company so other people could avoid the agony of his experience. This particular branch of his company sells pressure washers and pressure washer accessories, which are shipped for a lower price than with most other stores. Hoch offers both gas and electric versions of his pressure washers, as well as attachments and popular parts, if the problem for you is not obtaining a new washer but fixing your old one and getting it to work again.