Learn More About poundshop.com
The poundshop.com offers impressive online shopping to the customers keen to take an advantage of pound shop savings. It offers you all the essential articles of the everyday life in a huge variety including the household products, snacks, kitchen item, toys, batteries, etc. It delivers its product in all the areas of the UK, and Spain (excluding the Canary Islands.), France, the Republic of Ireland, Germany, Belgium, Netherlands, Luxembourg & Portugal.

It offers a wide range fashion including clothing and watches and jewellery. It offers all the stuff from a wide range of brands. It includes all the categories of clothing like outdoor wear, ladies, men, kids and thermal. It includes all the kinds socks like Men's Thermal Boot socks, Cozy Toes Ladies Thermal socks, , Men's Thermal Gloves - Navy , Supersoft Ear Muffs - Baby Pink, Supersoft Ear Muffs - Leopard Print, Supersoft Ear Muffs - Turtle Print, Supersoft Ear Muffs - Orange & Black Striped, Supersoft Ear Muffs – White, etc. it also offers the gorgeous jewellery which
It offers a wide range of food and drink from the top brands such as Aero, Cadbury, Haribo, Nestle, and Rowntrees. It offers a variety of drinks such as hot drinks, soft drinks, juices, and water. It includes Cafe Classic Cappuccino 10 Sachet, 5 pack Capri- Sun 200ml Pouches- Blackcurrant, 8 Pack Nescafe Gold Blend Cups, Horlicks Traditional 200g, Lavazza Filter Coffee Medium Italian Roast 100% Arabica, Typhoo One Cup Decaf 80 Pack, Typhoo QT One Cup 125g, 4 Pack Robinsons Fruit Shoot – Orange, 4 Pack Diet Pepsi 250ml, 2 Cans Coca Cola 330ml.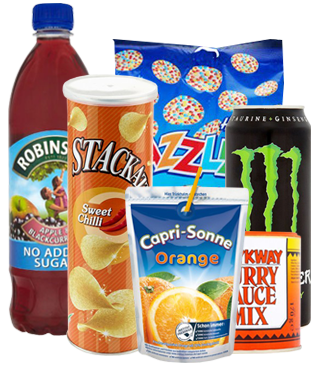 It also offers grocery items including Heinz Spaghetti Bolognese, 2 Pack Mug Shot – Chicken & Sweetcorn, 2 x Ainsley Harriott 3Pk Cup Soup - Cream Of Tomato, 2 x Ainsley Harriott 3Pk Cup Soup - Cream Of Chicken, 2 x Ainsley Harriott 3Pk Cup Soup - French Onion, 2 X Batchelors Super Noodles BBQ Beef, 2 x Bird's Custard 400g Tin, 2 x Bird's Rice Pudding 400g, 2 x Blue Dragon Microwave Long Grain Rice 250g, 3 x Heinz Baked Beans 200g, 8 Pack Nescafe Gold Blend Cups, Canderel 105 Sweetener Tablets, Crucials BBQ Dip, Daddies Tomato Ketchup Squeezy 400g, Green's Scooby Doo Groovy Cake Kit 212g, Green's Teenage Mutant Ninja Turtles Cake Kit 216g, ,Green's Tom & Jerry Cake, Kelloggs Honey Hoopla 250g, etc.
It also offers a huge variety of cosmetics for health and beauty care. It offers all the body care products including bath, soap, shower, hair care products, skin care, hand and nail care, deodorant, personal hygiene. It includes such kinds of items Massage Sponges, Simple Pure Sensitive Soap, Argan Oil Body Butter, Bath Glove, Carex Shower Gel, Coconut Water Shower Creme, Cotton Tree 200 Cotton Wool Balls, Dove Moisturising Cream, Make-up Mirror & Brushes Set, Pretty Mascara Black, Eyelashes, Ocuz Professional Lipstick, Eye Shadows, eye linear, Liquid Kiss Lipstick, shampoo conditioner, hair styling, hair colour, hair brushes, cleanser, toner, moisturisers, sun protection cream, nail polish, nail remover, etc.
It includes all the baby and kids products like clothing for girls and boys, baby accessories, baby feeding, toiletries, and toys. For kids it offers clothing, toys, outdoor toys, art & craft items such as Sponge Painting Set, crayons, Bike Spoke Reflectors, Sports Bottle, Chalk & Eraser Set, Roller Stamp Pens and more.You can also buy for your loving pets like a dog lead, bones, Bird Feeder Tube, toys for dogs and cats. It also provides you a huge range of stationary items like pens, erasers, colours, pencils, adjustable light, etc. it also impresses you by providing entertainment DVDs for kids also, with a category including action, romance, horror, and comedy along with electrical and lighting equipments.