Learn More About potterybarnkids.com
Pottery barn kids is a retail chain of all types of children's furnishing, textiles, toys and accessories which is required to design the bedrooms of kids, babies, teens and dorms in a very beautiful and modern manner. Pottery Barn kids was launched in 1999 and it was created by two moms who realized that just how much work went into designing great kids' bedrooms. The two moms wanted to give the comfort of high quality and latest designs for the beautiful bedrooms of kids. Since then, the mission of pottery barn kids has been to bring the utmost in quality, comfort, safety and style into every family's home. Pottery Barn kids offer an exclusive range of furnishings, textiles, toys and all types of accessories for children that can make every family's home beautiful and stylish and the quality, style and comfort offered by them can be loved by the entire family. Pottery barn kids operates over 90 stores in all over the US and Abroad. They are also operating an online store named potterybarnkids.com
There is an exclusive range of products available on pottery barn kids. From the nursery to the playroom and bedrooms, the comfort and style will love by the kids and the entire family. Their mission is to make the living of children in a fun and functional manner. They offer a free planning help by their experts to select the floor plan for a nursery or the finishing touch of the child's rooms at their stores, in your home or they can help through the phone also. They provide you these complimentary plans in any way in which you are comfortable. Each collection of pottery barn kids draw upon their comfortable, well-designed aesthetic, and are expertly crafted from the finest materials with a careful regard for child safety standards. They provide special touch and customizable products for the children like the products can be customize by writing the birth date or anything else of child on the product to make it extra special.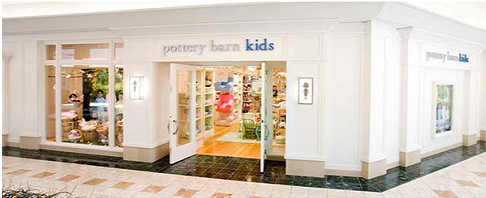 The products available for babies include Baby furniture, baby bedding, baby bath, blankets and essentials, diaper bags and totes, Beach wraps and essentials, Rugs and windows, décor and accessories, lighting, toys and gifts, Halloween, tabletop and feeding, storage, nursery chairs and automats and many more products are available for babies. The products available for kids are bedding, furniture, bathing, rugs and windows, quilts and comforters, kid's seating, storage, desk and chairs for study room, table and task lighting, backpacks, shelving, wall organizing, book storage, sheeting, food storage, beach and outdoor, sleeping, jewelry and jewelry boxes, frames, mirrors, letters, room accessories and desk accessories and many other décor products are available for kids. The products available for teenagers are girls beds and mattresses, boys beds and mattresses, storage beds, platform beds, bedside tables, bed set savings and many more for bedrooms, desks and chairs, bookcases and shelves for study rooms, sofas, sectionals, beanbags media storage, games, gaming chairs for lounge, quilts, comforters, sleeping bags, sheet sets, pillow inserts, Duvet covers, rugs, windows, bath, beaches, décor products and many more items are available for teenagers.Pottery Barn Kids provides casual furnishings, textiles, toys & accessories designed to delight and inspire the imagination. We're determined to show our customers just how easy it can be to bring style and inspiration to every room in the kid-friendly home. At potterybarnkids.com, parents can; shop completely coordinated collections for the bedroom, play space, bath or nursery, find creative party tips, decorating ideas and ways to create and enhance holiday traditions, visit our Video Library for insider tips from real moms, our in-house designers and more, create or shop a gift registry and find the perfect present for a new arrival or parent-to-be
Pottery barn kids also provide tips and ideas to design your own bedrooms, study rooms etc. They provide decorating articles, product information, and tools to design your own room, bed, study space, gear guide and quality guides that will help you to select the products for your home. They also provide free design services like free consultation for the interior of your home, decorating your rooms, videos to give you ideas and tips to help you to select the products. Also you can book a free appointment to design your children's rooms and they will help you to completely redoing a teen's room to finding the perfect finishing touches for their hangout. They love to share the things that inspire them like photos, party ideas, recipes, decorating tips and social media is the perfect way to do so. We encourage you to post photos of your spaces, questions, suggestions, and advice, and to interact with each other. However, please do not post photos of people other than yourself. Pottery Barn Kids does not endorse or take responsibility for the accuracy of information, opinions, claims, or advice shared on our page by Pottery Barn Kids fans.