Expiring Poptropica Promo Codes . Good luck!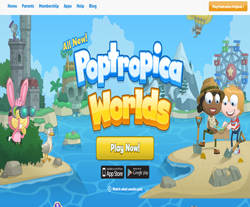 Visit poptropica.com
Top Cashback Offers
Related Categories
Poptropica website view
Poptropica is an online, role-playing game owned by publishing and education company Pearson PLC. Designed by Jeff Kinney (author of the Diary of a Wimpy Kid series), the game is aimed at children ages 6 to 15. The game has grown to over 500 million registered users. Players create custom characters, can go to different locations called islands, participate in multiplayer games, and communicate with each other. Each island centers around a problem or goal, and each one varies in difficulty. All islands, upon completion net the player 100 credits. From the site you can create a new player, get video walkthroughs, and even browse merchandise. Be sure to check out the benefits of membership, which currently costs $4 a month. Poptropica also offers a free mobile app, allowing you to play from your Android or apple Device.