Learn More About plumbworld.co.uk

'Plumbworld' offers you a wide range and variety of bathroom products and accessories to decorate and renovate your bathroom to define your living style. In the past, often people overlooked bathrooms, while all the others parts were well furnished; but with time, people are becoming more and more aware about the bathroom, as they like a nice shower when getting ready for office or hot bath when feeling tired.Plumbworld offers you just that. You can shop big and different brands and on a very competitive and reasonable prices than other stores. They give you not only a luxurious bathroom, but redefine your home.From the wide range of products under the category of Bathroom Suites, you can buy bathroom suites like straight bath, shower bath, standing bath, shower enclosure bath with the other options like family bathroom suites, small bathroom suites and cloakroom suites, according to your needs and choice.They also have Contemporary and Traditional toilets, and sinks in their collection. You can choose from different styles like contemporary toilets, Traditional Toilets, Back to Wall Toilets, Back to Wall Toilets with Unit, Space Saving Toilets, and Wall Hung Toilets. Sinks can also be selected from Contemporary Sinks, Traditional Sinks, Wall Hung Sinks, Vanity Unit Sinks, Counter Top Basins, Corner Sinks, and Space Saving Sinks.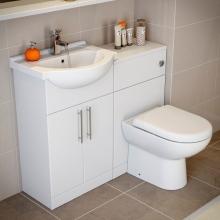 Showers and shower enclosures can give a nice and relax feeling when taking a bath. So, you can choose the type of showers of your choice and according to the climatic conditions from the variety of Electric Showers, Mixer Showers, Power Showers and Digital Showers with accessories like Shower Heads, Shower Head Kits & Riser Rails, Shower Hoses, Shower Spares and Shower Curtains.You can make your bathroom more of a comfort place and smart by accessories and products available under bathroom furniture. Here you can choose Floor standing Bathroom Vanity Units, Wall Hung Bathroom Vanity Units, Furniture and Toilet Units, Bathroom Mirror Cabinets and Bathroom Storage with a wide range of colors like White Gloss, Wood Finish, Chestnut, Beige, Red, Walnut, Grey and Black Bathroom Furniture.Taps go a long way in making a style statement of the house. People while using sinks for washing their hands tend to notice the style and trendy taps so here you can apply the different types and styles of taps like Bath Shower Mixer Taps, Standard Bath Taps, Bath Filler Taps, Bath Mixer Taps, Wall Mounted Bath Taps and Free Standing Taps.Different bathroom accessories include Bathroom Accessories Bundles, Toilet Roll Holders, Toilet Brushes, Soap Dishes, Towel Rings, Towel Rails, Glass Shelves, Shower Caddies, Bathroom Mirrors, Bathroom Extractor Fans, Bathroom Lighting, Central Heating Towel Rails, Electric Heated Towel Rails and Traditional Heated Towel Rails.You can order anything and everything you need by going on their website. They have made a customer friendly website, which is very simple and easy to use but even then if you encounter any problem they will be happy to help. You can pay by various payment modes.