Learn More About plugfones.com

Plugfones is an online store that sells its customers different type of earplugs which you may never have seen or imagined before. These are the earplugs or headphones that are constructed especially for those who work in loud environments like in the construction line , manufacturing and many more where hearing can be affected. These are highly recommended for areas where hearing-occupational hazards are a part of the territory. These ear plugs are basically like those ordinary noises, reducing earplugs but what is different in them is that apart from letting you not hear any sound from outside, it allows you to listen to your favourite music, news and whatever else you would like to hear at a busy road, construction site or at the gym. Now you can protect your ears with these plug-in headphones from the loud and busting noises coming from various sources around you. These headphones are fully equipped to protect your ears as it provides a Noise Reduction Rating of 25 dB. You may not be aware of the fact that about ten million Americans have developed hearing loss due to noise-related incidents. Permanent hearing may be a result of long exposure to an extremely loud noise or sustained, but continuous exposure to medium noise levels. You may be shocked to know that hearing loss due to noise related incidents are one of the biggest threats to health at work. At the job site, most of the people are exposed to short or continuous loud noises. If exposed to loud noises of more than 85 dB, then it may result into permanent hearing loss only after 8 hours of continuous exposure. But Plugfones has a solution for it. The earbud earplugs available at Plugfones, which provide a Noise Reduction Rating of 25 dB, can protect your ears from any loud noises. While using these earplugs, you don't have to worry about the strength. These eardbud earplugs are made from superb quality material which makes them strong and durable enough to withstand critical situations also. Also, these earbuds come with very long cables as long as 1.2 m which give a hassle-free experience while managing cables of your devices. You can easily put it in and out of your clothes and do your work smoothly. Where other earbuds just fall out, Plugfones' earbuds play their role even then. Special care is taken to give them their sleek design which makes them extra stable from other ordinary earbuds. They will never fall out of your ears, thereby reducing any chances of falling out.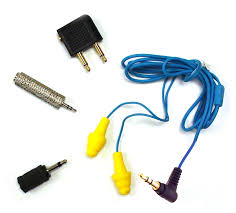 Plugfones offer a different collection of its earbud earplugs for you doing different jobs. It offers manufacturing earplugs, gym, motor cycle, shooting, yard work, travel earplugs and much more. While riding motorcycle can be a deafening experience as you are constantly exposed to loud noises coming from other vehicles as well apart from your own vehicle. But this is not the real threat to your ears, but the wind noise is the real devil in this case. This noise of more than 95 dB can cause even hearing loss. The plugfones' earbuds earplugs will not just protect your ears, but you can also listen to your favourite tracks while driving. Gone are the days when you were forced to hear those loud noises of grunts at the gym with these earplugs. Do your workout listening to your own music and remain pumped up. It is a sure thing that these earplugs will never fall out of your ears, even when you are running or exercising. Plugfones offer its customers two types of earplugs including silicone earplugs and the foam ones. Available in yellow and purple colour, silicone earplugs are ideal for use in the gym or doing rigorous exercises. Foam earplugs are available in four colours which are red-yellow, yellow-green and green. They assure full comfort and are known to deliver sound to ear directly. The impulsive, but loud blast can prove harmful for your ears, but with the Plugfones' earplugs, you can protect them while listening to your favourite music while hunting and shooting. While doing your yard work laboriously, there is no need to feel any pain by those churning and roaring sounds of old motors and tools when you can listen to the famous tracks and audio books of your choice with these Plugfones earplugs.