Learn More About pixartprinting.co.uk

Pixartprinting is a leading printing company in UK, delivering bespoke services in a variety of printing requirements. The company aims to redefine the concept of online printing by providing excellent and economical solutions in the most convenient way.Pixartprinting was founded in 1994 by businessman Matteo Rigamonti. At present the company houses 420 staff members and handles more than 7000 ordersper day. The company has a steady database of 170,000 clients from across Europe. Currently, Cimpress holds 96% of the company's shares and has evolved by delivering innovations in the global web to print field. The company follows certain moral values in order todeliver its commitment to its rapidly growing customer base. The values are:to maintain commendable standards of quality, use high-end technology, deliver competitiveness and innovation.The well known products of Pixartprinting are:• Small Format Digital Printing• Small Format Offset Printing• Labels Department• Large Format PrintingIn Pixartprinting website, you can enjoy 'window shopping' as well, which means you can enjoy a kaleidoscopic view of all the products and services delivered by the company.Along with the regular printed products, the company also delivers textile printing varieties as well, for example, clothing, cushion covers, panel curtains, rolled canvas prints and so on. In addition to that, Pixartprinting delivers smart solutions for the hospitality industry by providing printed uniforms as well and caters to the demands of the food industry by printing on packaged food products, menus, linen and the like.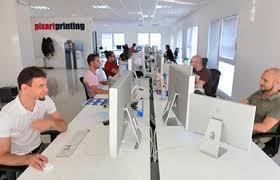 The store intends to be a one stop shop for all your requirements in terms of printed products. You will not have to go elsewhere because everything is clearly tagged for your convenience. You can fulfill all your personal and professional demands just by visiting and ordering from this website. In order to ensure good service to its customers and conduct continuous workflow without hindrance, the company updates its software on a regular basis. This keeps error to a minimum and efficiency to the maximum.The website showcases a wide variety of display items as well, like roller banners, banner stands, counter stands, counter displays and so on.Pixartprinting aims to become the ultimate answer to all printing requirements of its customers. The company delivers state of the art business cards, cardboard displays, XL banners, feather flags, roller banner, fabric flags and an unending array of services in the printing field. The company constantly upgrades its technology to provide better service to customers.The website for Pixartprinting is judiciously maintained with excellent graphics and relevant content. High quality images are placed alongside the products to help with easy selection. The website is integrated with unique features to enable easy shopping. The company, by making it easy for customers has been quite successful in breaking down all the barriers that certain customers face when it comes to online shopping. Each stage of shopping is easy with explicit instructions on how to go about it successfully. In addition to excellent service, the website boasts of a chat service that can provide guidance and help, should anyone need assistance while shopping.